Cartellate Demo at Corrado's

201 Berdan Avenue

Wayne, NJ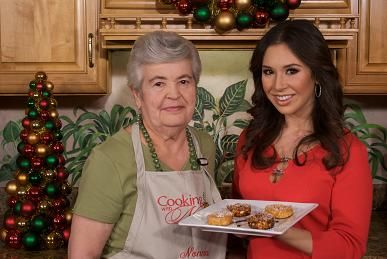 Date: December 11, 2010

Time: 11:00AM - 1:00PM
Please join us as we will be doing a demo of Cartellate (see Video of the recipe). During the Demo, Nonna Romana will prepare traditional Cartellate dipped in Vin Cotto or honey... whichever you prefer, and I will prepare a version of Cartellate that I discovered in Fasano, Puglia during my visit there last spring.. You will absolutely love this more contemporary rendition of Cartellate. So please come and visit us... Nonna Romana is waiting for you!

FREE Admission and FREE Samples for all!!!
Buon Natale! - Merry Christmas!
Calendar of Events 2013
(Please check back frequently as new events are added all the times!)
| | | |
| --- | --- | --- |
| DATE | TIME | EVENT |
| February 10 | 5:00PM-10:00PM | Carnevale Party, NYC |
| March 23 | 7:00PM-9:00PM | La Scuola di Eataly, NYC |
| April 6 | 11:00AM-5:00PM | Wellness EXPO at GCU, Lakewood, NJ |
| April 20 | 1:00PM-5:00PM | Heights Beer & Wine Emporium, Hasbrouck Heights, NJ |
| June 14-15 | All Day | Indianapolis Italian Festa, Indianapolis, IN |
| June 26 | 7:00PM-9:00PM | Dinner/Demo @ Joanne Trattoria NYC |
| July 20-21 | All Day | Milwaukee Festa Italiana, WI |
| Sept. 14-21 | All Day | Sorrento with Rossella Culinary Tour, Sorrento |
| | | |
| | | |
| | | |
| | | |
| | | |
| | | |
| | | |
| | | |
| | | |
Calendar of Events 2012
(Please check back frequently as new events are added all the times!)
| | | |
| --- | --- | --- |
| DATE | TIME | EVENT |
| March 4 | 3:00PM-6:00PM | St. John's University, Queens, NY |
| March 31 | 1:00PM-4:00PM | La Bella Marketplace, 7903 13 Ave, Brooklyn, NY |
| July 21, 22 | All Day | Festa Italiana, Milwaukee, WI |
| Sept. 15 | 2:00-5:00PM | Order Sons of Italy Feast, Rockland County, NY |
| Sept. 29, 30 | 2:00PM | Seattle Festa Italiana, Seattle, WA |
| Oct. 12, 13 | All Day | NIAF Convention, Washington, DC |
| Oct. 26 | 7:00PM | Charity di Vino-UNICO, Mahwah, NJ |
| Dec. 4 | | Georgian Court University, Lakewood, NJ |
| Dec. 15 | | The Arthur Avenue Market, Bronx, NY |
| Dec. 22 | 12:00PM-3:00PM | A.L.C., Brooklyn, NY |
Calendar of Events 2011

| | | |
| --- | --- | --- |
| DATE | TIME | EVENT |
| February 12 | 11:00AM-1:00PM | |
| February 13 | 1:00PM-3:00PM | |
| April 3 | 11:00AM-2:00PM | |
| April 7 | 6:30PM-8:00PM | Westchester Italian Cultural Ctr - Cooking Demo, Tuckahoe, NY |
| April 30 | 2:00PM-4:00PM | |
| May 10 | 6:00PM-9:00PM | |
| July 10 - 11 | All Day | Fancy Food Show, Wash. DC |
| August 4 | 4:00PM - 9:00PM | Unico National Convention: Taste of Italy, Arlington, VA |
| Sept. 24 & 25 | All Day | |
| Oct. 15 | 9:00AM-1:00PM | NJ Italian-American Heritage Comm., New Brunswick, NJ |
| Oct. 22 | 12:00AM-2:00PM | Burlington County College, Pemberton, NJ |
| Oct. 28 & 29 | All Day | NIAF Convention, Wash. DC |
| Dec. 17 | 1:00PM-4:00PM | Cartellate Demo @ La Bella Marketplace, 99 Ellis Street, SI, NY |
| Dec. 18 | 12:00PM-3:00PM | Cartellate Demo @ DiPalo, 200 Grand St. NY, NY |