Get your Italian Nutella HERE!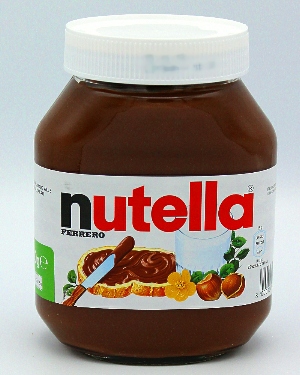 For the Cake:
Preheat oven to 350 degrees

Grease two 9 inch spring form cake pans with shortening or butter.

Sift together Flour and Corn starch and set aside.

In a standing mixer beat the Eggs, Salt and Sugar on medium speed for 5 minutes. Change to high speed until ribbons form (about 15 minutes) mixture will be fluffy and lighter in color.

Little by little sprinkle Flour and corn starch mixture over the top and fold into the Eggs and Sugar.

Add the mashed Bananas and fold in.

Pour batter equally into 2 cake pans and bake for 30 minutes or until the cake is golden brown and springy.

Cool completely before frosting.
For the Banana Cream Filling:
In a medium saucepan whisk together flour and sugar to make sure there are no clumps.

Add milk and Egg Yolks and bring to a book stirring constantly on medium/high heat until mixture thickens and coats the back of a spoon. Cover with plastic wrap and press it directly into the surface of the cream to prevent skin from forming. Cool completely.

Stir in mashed Bananas.

You can also blend with an electric mixer for a smoother cream.
For the Nutella Frosting:
In a stand mixer or with an electric mixer combine both ingredients until smooth.

Once cakes are cooled place first layer on a plate or cake stand lined with sheets of parchment paper. With a spatula spread banana cream over the first layer leaving a 1/2 inch border. Flip the second layer over so the domed side is down. Frost the entire cake with Nutella frosting. Decorate with slices of banana treated with lemon juice and hazelnuts.