Get the Busiate Pasta HERE!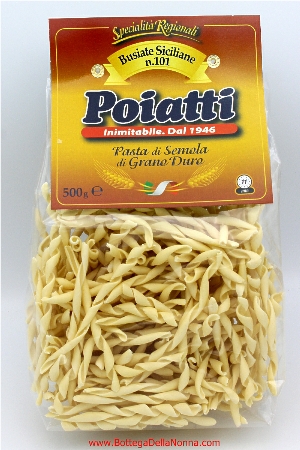 To Roast the Eggplant:
Preheat your oven to 400 degrees. Line a baking sheet with Parchment Paper.
Spread the eggplant onto the baking sheet and toss in the oil and salt, making sure all the eggplant is well coated. Drizzle a bit more oil over the top of the eggplant and roast until the eggplant is cooked through and soft, about 40 minutes. Toss the eggplant halfway through.
Transfer the cooked eggplant to a colander and allow the excess oil to drain into a bowl for about 10 minutes. Discard the oil.
To Make the Pasta:
Put a skillet over a medium flame and heat the oil. Add the garlic and cook until golden brown and fragrant, about 30 seconds. Add the tomatoes and salt and cook until they begin to soften, about 5-7 minutes.
Add the basil and the eggplant to the pan and cook for 5-7 minutes.
Drop the pasta into generously salted boiling water and cook until al dente.
Drain and transfer to the pan with the sauce along with the pistachios if using.
Toss over high heat for 1-2 minutes.
Serve in warm bowls.