Get the products you need for this recipe HERE!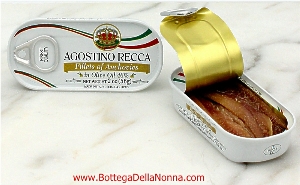 Prepare the scallions by cleaning then, washing them and cutting them into pieces of 1 1/2" long.
In a large pot add 4 Tbs of EV olive oil, the scallions, the tomatoes and the olives and the wine.
Add salt and hot pepper to taste.
Let the scallions cook at medium heat for about 15 mins.
Remove from the stove, drain the juices and let cool off well.
In a bowl add the flour, the oil and the wine (lukewarm). Also add a pinch of salt.
Cut the dough in half. Take one half and with a rolling pin flatten it into a thin round sheet of dough large enough to cover the bottom of your baking pan (12" wide). Before you lay the dough in the pan, apply a very thin film of EV olive oil to the pan. Position the dough in the pan and then spread the scallions uniformly on the dough. Keep the scallions within 1/2' from the border of the dough. Spread the anchovies over the scallions.
Take the other half of the dough and flatten it with the rolling pin into a round sheet that you will use the cover the scallions. Once you place the dough over the scallions cut any excess dough and with a fork seal the two sheets of dough together.
With your fingers, apply a thin film of EV olive oil over the entire surface of the scalcione. Then, with a fork, puncture the surface every 2" and bake for 60 mins. at 400F.