Get your Nutella HERE!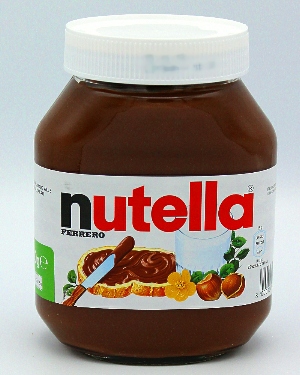 Put the hazelnuts in a food processor and process until fine, about 2 minutes. Set aside.
In the bowl of a stand mixer fitted with the paddle attachment beat the butter, sugar and extract on medium-high speed until fluffy, about 5 minutes. Lower the speed to low and beat in the hazelnuts. Beat in the eggs one at a time waiting until each is fully incorporated before adding the next. Add in the flour and mix until fully absorbed and a dough forms. Do not over mix.
Cover the dough in plastic wrap and flatten into a disc. Refrigerate for at least 2 hours or up to 5 days.
Preheat the oven to 350 degrees.
Line a standard baking sheet with foil or parchment paper.
Roll out the dough using 1/4 inch rolling guides. Using a 3 inch heart cookie cutter cut out as many hearts as possible and place on the prepared baking sheet about 1 inch apart. Re roll any scraps. If the dough is too soft wrap it in the plastic wrap and chill in the refrigerator until firm.
Before baking chill the cut out hearts in the freezer for 10 minutes to ensure they keep their shape.
Bake for 10 minutes. Cool completely on a wire rack.
Frost each cookie with the hazelnut spread and decorate with your favorite sprinkles.