Get your Italian Nutella HERE!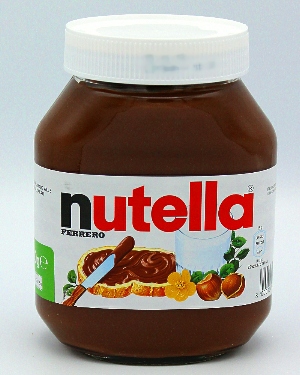 Preheat oven to 375 degrees
Line a 9X13 inch baking pan with foil and spray with cooking spray. Set aside.
In a stand mixer combine Nutella and eggs and mix well. Add in the flour and mix until just combined. Transfer to the baking pan and bake for 20 mins. Cool completely.
To make the raspberry buttercream place raspberries in a small sauce pan and stir over medium high heat until the raspberries break down. About 5 to 7 minutes. The berries will become soupy.
Pour the mixture through a strainer to remove the seeds and put the liquid back into the saucepan. Simmer until the liquid has reduced to approximately 1/4 Cup. About 5 minutes. The liquid will thicken and be a deep red color. Cool and set aside.
In a stand mixer combine butter, cream cheese and confectioners sugar. Mix until smooth. Add in the raspberry sauce, lemon juice and salt. Mix until the color is uniformly pink.
Using a heart shaped cookie cutter, cut out hearts from the cooled brownies.
Fill a pastry bag or a plastic zipper bag with a cut corner with the frosting and pipe an outline on the flat side of one of the brownies. Place the other brownie flat side on the frosting like a sandwich. Decorated with extra confectioners sugar.