Get your Nutella imported from Italy in a glass jar HERE!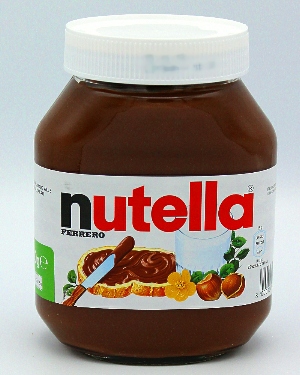 Preheat oven to 350 degrees
Grease a cookie sheet and line with parchment paper. Grease the parchment paper as well. You can use butter or shortening but I used a spray with flour.
In the bowl of a stand mixer beat eggs, sugar and a pinch of salt until the mixture has doubled in size and ribbons form- about 10 minutes on high speed.
While the mixer is going sift the flour, baking soda, cinnamon, nutmeg, cloves and salt together twice to combine the ingredients. Set aside.
When the eggs and sugar have doubled in volume and ribbons have formed turn the mixer down to medium-low speed and add the vanilla extract and pumpkin. Mix until just combined and then add the dry ingredients. Mix until just combined. Do not over mix.
Pour batter into the parchment lined cookie sheet and smooth out with a spatula. Sprinkle with the chopped hazelnuts
Bake for 12-15 minutes or until springy and edges begin to pull away.
Lay out a lint free kitchen towel and sprinkle with a generous amount of confectioners sugar.
Remove the cookie sheet from the oven and quickly flip it onto the towel.
Remove the parchment paper and quickly roll the cake with the towel. Try not to stop rolling once you start.
Let cool for about an hour and a half.
For the filling beat Nutella and Cream Cheese until combined.
Once the cake is cooled carefully unroll it and spread the filling evenly.
Roll the cake back up and chill for at least 2 hours before serving. The more it chills the better! Sprinkle with extra powdered sugar and enjoy!