Get authentic Sicilian Anelletti Pasta HERE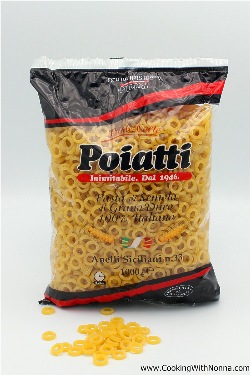 Make the Crust:
In a stand mixer, add the flour, salt and the butter cut in cubes.

Let the flour absorb all the butter. Add the eggs and let them mix well.

Add enough milk (about 1/4 + Cups) until you have a firm ball of dough.

Let it rest.
Prepare the Eggplant:
Wash, peel and slice the eggplant longways about 1/4" tick.

Lightly fry all the eggplant slices in olive oil and set aside.
Boil the Pasta:
In salted water, cook the Anelletti pasta to just before Al Dente. Drain the pasta, blanch it with very cold water and set aside.
Make the Meat Sauce:
Add 3 Tbs of EV olive oil in a pot followed by the garlic. Once the garlic turns blonde, add the chopped meat.

Let the meat brown and add the white wine.

Let the alcohol evaporate and add the bay leaves to be removed once the sauce has cooked and cooled off.

Add salt and Peperoncino, as desired, and the fresh parsley.

Add the crushed tomatoes and the peas.

Let the sauce cook for about 5 mins., set aside to cool.
Assembly the Timballo:
Pre-heat the oven to 350F.

Butter and flour a 9" spring-form pan.

Mix the pasta and the meat sauce.

Take the dough and split it 60/40.

Take the larger piece of dough and roll it with a pin to about 1/4" thick and large enough that will line the bottom and the sides of the pan.

Place the rolled dough in the pan and cut any excess dough overflowing from the sides.

Line the borders of the pan with slices of eggplant with half hanging from the sides of the pan. Line the bottom of the pan with eggplant as well.

Line the bottom with a layer of mozzarella.

Cover the mozzarella with a layer of pasta until midway into the pan.

Add a layer of eggplant and a layer of mozzarella.

Cover to the top with pasta to form a little dome.

Add another layer of mozzarella and flip over it the eggplant hanging from the sides of the pan.

Roll the remaining dough to 1/4" and place over the pan to seal the entire Timballo. Cut any excess dough hanging from the sides and with your fingers seal the bottom and top dough together.

Decorate the top of the Timballo as desired and give it a good coating of egg wash.

Bake for about 1 to 1 1/4 hours until you have the desired color on top.