The Italian Hot Dog ___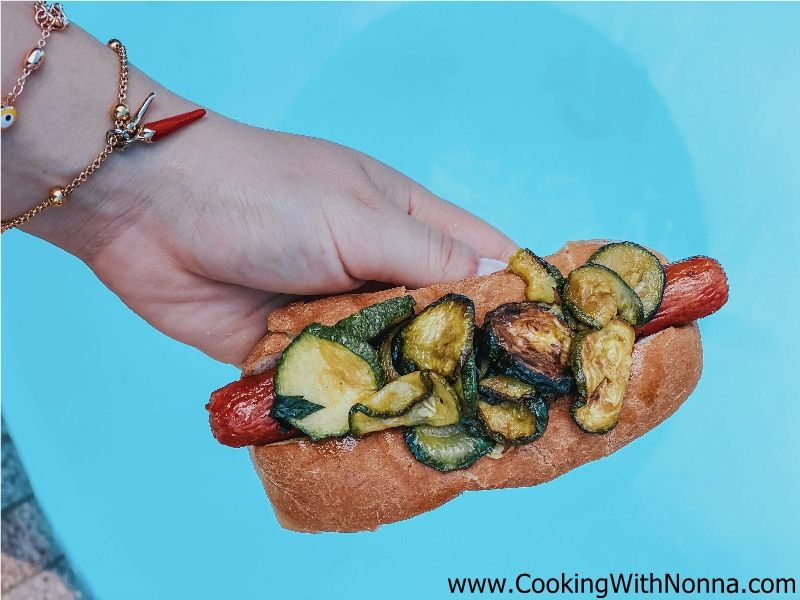 Ingredients
For the hot dogs:
For the zucchini:
6

mediun zucchini

1

tablespoon

chopped fresh mint

3

tablespoons

red wine vinegar

salt

3

tablespoons

extra virgin olive oil

oil for frying
Directions
To make the hot dogs:
Cook the hot dogs according to the package instructions.*The Zucchini taste best on hot dogs that have been cooked on the barbecue.
To make the zucchini:

Wash the Zucchini and slice them in rounds a little less than 1/4" thick.
Add a little olive oil in a saute` pan and saute` all the sliced zucchini on both sides until they are golden brown. Place on paper towels and set aside.
Transfer the fried zucchini on a serving platter and sprinkle with salt as desired.
In a small bowl mix the vinegar, oil, garlic and fresh mint. Add salt as desired.
Pour mixture over the zucchine, cover and refrigerate for 2-3 hours.
Top the hot dogs with 2-3 tablespoons of the zucchini or as desired.