Back to my Alma Mater - Part 2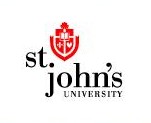 On March 4, 2012, as part of the celebrations of Women's History Month, I had the pleasure to be invited by the Alumni Associations of St. John's University and speak to my fellow Alumnae from the school. Well, for me this is such a great honor because this is the second time that I'm invited by the school to visit and share with them my experiences from Cooking with Nonna. This time, I also had the great company of my beautiful Nonna Romana and my Mamma Angela. You can't imagine how much of a thrill this was for them as well. Especially my Nonna Romana... just imagine her speaking at a University. She was so lovely and the event turned out so well.

Then of course there is no Cooking with Nonna event that is without food. The school had prepared a wonderful buffet from the Cooking with Nonna recipes and everyone got a chance to taste some great Pugliese food. But good food also needs good wine, so my friends from Santa Armosa provided some great organic wines from Puglia and everyone had a blast.

Since we all had a great time, we need to do this again next year. Little by little, my Nonna Romana may just earn a degree from St. John's University! :)

Menu`:

Photos from the Event