Welcome to my Bottega, opened by my BisNonna Regina in 1945 in Mola di Bari.

...the tradition continues!

The Nonna Knives & Apron are Here!

Order the Nonna Apron and one or more sets of Nonna Knives
to look and cook like...
Nonna!

Give your Nonna and your Mamma
a Cooking with Nonna Apron and a set of
Nonna Knives!!!
They deserves them!
The Nonna Knives are Made in Italy!
We only ship in the USA.
All prices include Shipping Charges to any state in the USA.
PS: The Nonna Knives are also sold in these Fine Stores
The Nonna Knife


The Nonna Apron

Buy Knives Here:


Now you will finally be able to cook like a Nonna! This knife is the only knife that my Nonna Romana uses in her kitchen (like many Italian Nonne). She even carries it in her purse wherever she goes!

Each set contains 6 ultrasharp stainless steel knives with serrated blades that never lose their edge and last forever! The knives come in red or white handles. They make excellent gifts for yourself or the foodie friends in you life all year round. These knives are perfect for peeling vegetables, chopping garlic, cleaning fruit, slicing bread and most of all for creating texture on fresh pasta. They perform all the functions of knives costing many times more. Get a few sets... try for yourself, give some to your friends!


Shipping available only in the Continental USA.

View close-up PHOTO of Knives.

The Nonna Knives are Made in Italy

PS: If you are interested in higher quantities please write to us at: This e-mail address is being protected from spambots. You need JavaScript enabled to view it

Buy Aprons Here:

The Cooking with Nonna Apron is the perfect Christmas gift for anyone who loves to cook, or just anyone who loves Nonna!

The one-size-fits-all Nonna Apron, is stain resistant and made from 100% cotton, with two pockets and the embroidered Cooking with Nonna logo on the front. Available only in Stone color.


Feel free to personalize your apron once you receive it.

Shipping available only in the Continental USA.

***

PS: If you are interested in higher quantities please write to us at: This e-mail address is being protected from spambots. You need JavaScript enabled to view it
(*) All prices listed above include Shipping and Handling to all states in the Continental USA. All New Jersey residents will also be charged New Jersey State Sales Taxes (7%).
***
This film, written by my Mamma Angela and in which she plays one of the leading roles, is also a great gift for Family and Friends! Get yourself a copy!
Sister Italy Movie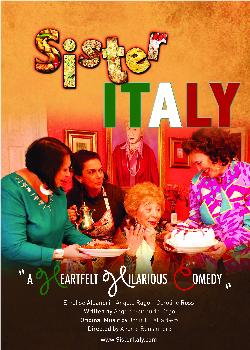 Sister Italy is a heartfelt, hilarious, culinary escapade that follows the fortunes of two Italian-American sisters, Italia and Maria, who are rival cooks. They clash in an intriguing cooking competition for a place in the affections, and last will and testament, of their rich, eccentric, aged aunt. The lively contest inevitably involves the families of the sisters, and causes a full-blown, typical Italian family feud that explodes into farcical emotional outbursts and appetizing gastronomic confrontations.

For any questions please contact us at: This e-mail address is being protected from spambots. You need JavaScript enabled to view it
Please Share with Family and Friends Using the Buttons Below! Grazie!!!