Please Share with Family and Friends Using the Buttons Below! Grazie, Rossella!!!
Welcome to Our Italian Recipes Library!
Enjoy our Traditional Italian Recipes or browse our Grandma's files for the most Original, Traditional and Authentic Italian Food and Cuisine. Here you will find Pasta, Dessert, Cookies, Fish, Meat and all the Italian Holiday recipes... and for sure some of the most delicious and Authentic Italian Recipes prepared by our Nonne, our Grandmothers, who are the keepers of the most treasured traditions. It is like getting Free Italian Cooking lessons at your own pace. So, please become a member of La Famiglia and immediately have access to all the Best Italian Recipes. Further, we can also keep you informed of all new events and offers going on at Cooking with Nonna!!! Remember, when it comes to Italian Food... there is no higher authority than Nonna!

Join Rossella on Her

2015 - Culinary Tours to Italy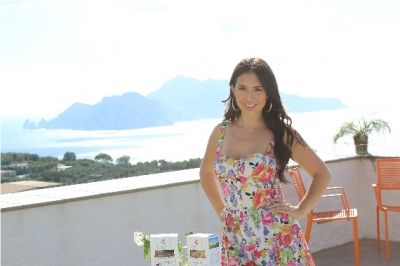 If you do not see what you are looking for, use FIND IT above and you will find it!
All Our Recipes by Categories

If you do not see what you are looking for, use FIND IT above and for sure you will find it!
| | | | |
| --- | --- | --- | --- |
| | Get all your favorite appetizers that your Nonna used to make and now you can make as well! | | Nothing like a fresh Italian salad. Easy to make and very healthy for you! We have a very nice collection! |
| | Try our wide selection of First Course Recipes including many Pasta, Risotti and vegetables. | | All good meals need at least one side dish to accompany the your meal and make it enjoyable! |
| | We have many choices of fine Entrees to satisfy the taste buds of all our Friends. | | When it comes to Italian Recipes, one immediately think of Pasta... we have many prized Pasta Recipes! |
| | Soups... not only for those chilly days. Soups, hot or cold, are perfect at any time of the year! | | If you like sweets, this is the perfect place for many traditional cookies and... especially for the Holidays! |
| | We have a wide collection of all Meat Recipes: Veal, Pork, Beef, Game and many more! | | Our Fish Recipes are the best of the Italian Regional Cuisine and can easily be made by all of you! |
| | Our Chicken Recipes are so varied and delicious. A great way to feed a family at low cost. | | The Healty Corner with recipes for: Diabetes, Cholesterol, Gluren Free, Vegan, Vegetarian and the Mediterranean Diet. |
| | The best of the Italian Breads, Focaccia, Pizza and many other excellent bakery products.! | | All Nonne have a tradition of preserving fruits and vegetables for the winter. They knew how to plan! |
| | Thanksgiving is a holiday to thank one another and share good food. We share our recipes with you! | | Many regional and traditional Christmas dishes to help you celebrate Christmas Italian Style! |
| | The widest collection of traditional Italian Christmas Cookies and Desserts you will ever find! | | Let us help you celebrate the Feast of the Seven Fishes with a rich selection of Italian Fish Recipes. |
| | Close the year with traditional recipes that have been enjoyed by many generations! | | Welcome the New Year with a great dinner full of delicious dishes . Great way to start the New Year! |
| | All the traditional regional recipes to help you celebrate Good Friday and Easter with your Family. | | Great traditional recipe to celebrate St. Joseph including Pasta with Bread Crumbs. |
| | Many recipes to celebrate this very romantic day. Many Pasta, Entrees and of course many Desserts. | | A wide collection of St. Patrick's Recipes to help all our Irish and non-Irish friends celebrate this day. |
| | Our Mothers deserve only the best. So we have selected a fine series of Italian Recipes for Mamma to have a fantastic day. | | Our Fathers also deserve the very best. So we have collected a great series of Italian Recipes for them as well. |
| All Recipes | All Recipes | All Recipes | |
Keep on coming back to this page as new Recipes are being added Daily!