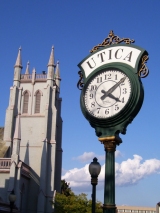 Mommia
My Golden Pots:

My Nonna Points:
16
Member of La Famiglia since:
10/27/2012
Female Daughter Can cook like a Nonna!
I have a recipe for s cookies. Do you remember if you rolled them or piped them onto a cookie sheet. My dough is piped from a bag. I will share if you want it. It's kind of a crispy cookie.
You are so right. So you lightly grease and whatever you put in the pan has to be pried out with a spatula, knife, then hammer and chisel. And in the end you have to throw the pan i the garbage! I use parchment paper for as much as possible. My Gramma would never have approved. She would have thought it was a waste of money and would have said,...You are so right. So you lightly grease and whatever you put in the pan has to be pried out with a spatula, knife, then hammer and chisel. And in the end you have to throw the pan i the garbage! I use parchment paper for as much as possible. My Gramma would never have approved. She would have thought it was a waste of money and would have said, "Use more spry!" CIAO! Show more
Today is Sunday in Upstate NY (the Utica area) and it's snowing! AGAIN!!! I have a pot of tomato sauce slowly simmering on the stove and my husband just got out of bed to tell me the house smells wonderful. We are going to enjoy some homemade hats for dinner with the family who will be over for dinner later. Frying meatballs for those who don't...Today is Sunday in Upstate NY (the Utica area) and it's snowing! AGAIN!!! I have a pot of tomato sauce slowly simmering on the stove and my husband just got out of bed to tell me the house smells wonderful. We are going to enjoy some homemade hats for dinner with the family who will be over for dinner later. Frying meatballs for those who don't like them in sauce and some pork baccioli. How could life get any better? Show more