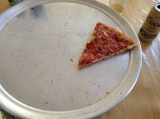 Nonna Celeste
My Golden Pots:

My Nonna Points:
6
Member of La Famiglia since:
04/07/2015
Female Nonna Can cook like a Nonna!
Hi Rossella, I plan to make baked zeppole from the holiday cookbook. Step 9 says, "Overlap the dough by no more than 1 inch (2.5cm). I don't understand what this means, since the 3" circles need to be 2" apart. Can you please explain? Thanks!
Can't wait to try the coffee cake! Can you get Nonna a silicone "French spatula"? My mom would make one from a flexible plastic lid (from a raisin container) with the edge cut off. Easier to scrape the bowl!
Hi Rossella, This caponata recipe looks delicious! You read my mind, because I've been wanting to make caponata. However, what are hot green olives? The ones in the photo look like ordinary Spanish olives stuffed with pimiento. Are hot olives something different? Grazie, Celeste

rossella rago
They are the ones stuffed with pieces of hot peppers. But you can use just green olives if you like.
4 years ago


Hi Rossella!
Congratulations on your marriage! Wishing you a lifetime of happiness. I also hope St. Anthony has gotten your bridal robe back to you!
Here is my question. Are you familiar with a cookie called Osso Mort'? I remember them from childhood but can't find them where. Do you have a recipe? Thanks, Celeste



For anyone looking for the 14.5" pan to bake Jen's Jersey Shore Crumb Cake... I found mine at Michael's, with the pans for making wedding cakes. The first bake took 10 minutes, and the subsequent bake after adding the crumb mixture was another 30 minutes. The cake is in the process of cooling, and looks and smells fantastico!
Fillets of anchovies in oil!
Does the San Giuseppe recipe call for tinned sardine fillets in oil?