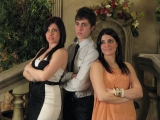 ZioJoe
My Golden Pots:

My Nonna Points:
5
Member of La Famiglia since:
12/11/2012
Male Father Can cook like a Nonna!
Grazie ZioJoe... Buon Natale!
Simply the best Italian Cooking Web site ever!
All Authentic Original Recipes I've enjoyed since I was a child.
God Bless and Have a Wonderful Christmas.
Buon Natale!