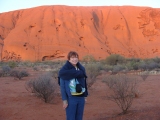 anniecm
My Golden Pots:

My Nonna Points:
10
Member of La Famiglia since:
11/30/2012
Female Daughter Pretty Good!
Looking forward to sharing some wonderful wine and food with you. Greetings from Montreal, we have new snow, it is sunny and minus 13C
bon journée Patricia

rossella rago
Welcome!!! Enjoy the snow and keep it up there! LOL Lots of cooking coming up in the next few weeks!
11 years ago