On my last trip to Italy I was overwhelmed by new tastes and experiences. Even though I've been there many times, I'm always amazed by the many hidden gems I find. That was certainly the case with La Cantina di Cianna Cianne in Bari Vecchia. This amazing Trattoria is in the heart of the old city of Bari, and serves traditional Barese dishes you can enjoy while sitting outside on a little side street, taking in the energy of this vibrant city. The charismatic owner, Beppe Stucci, explained the meaning behind the name of his restaurant to me. The name Cianna Cianne is actually a play on words from Barese dialect that means a messy lady. He said that if a man would come home to find the house out of order he would yell and say "What is this, the house of Cianna Cianne?"
Beppe is quite a character, and he and his adorable wife Resi put all of their passion into running their business. They were so accommodating when I arrived late one evening after a very long drive from Sorrento and just needed a good meal. I ended up getting so much more, as Beppe and Resi sat with me and my guests and recounted hilarious anecdotes of the restaurant business and just life in general. By the end of the meal, we were great friends. I'm thrilled that I'll be bringing my Puglia tour group there this year so they can share in the experience - check out the video from my dinner there and you'll know exactly what I mean!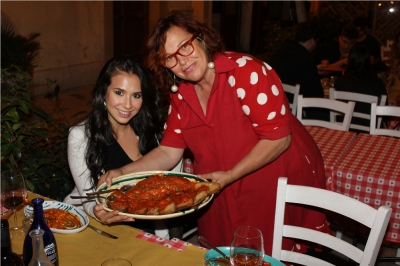 I decided to leave the menu totally up to Resi, and I'm glad I trusted my instincts. This Scorfano was delicious.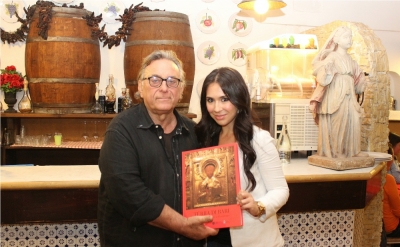 Beppe was so sweet to give me this awesome book about Bari.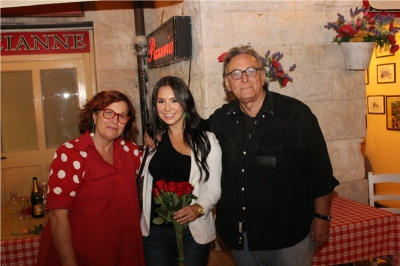 The evening wouldn't have been complete without someone coming around selling roses. Beppe and Resi bought me all of them without hesitation. Their love story is incredible, and you can hear all about it in the video!
Needless to say, it was indeed an honor to be chosen by Beppe as an Ambassador of the Barese Cuisine in America!  Grazie Beppe!  See you soon again!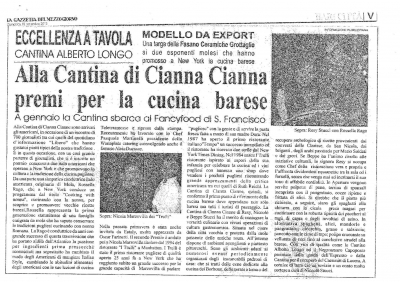 Lunch at La Cantina di Cianna Cianne will be a stop during my Puglia Culinary Tour 2014.