Hey Everyone!

I wanted to share some behind-the-scenes stuff about my trip to Milwaukee for the Festa Italiana.  Let me tell you, I was completely blown away by the unity of this organization.  This was, by far, the biggest Festa Italiana I have ever been to.  The entire weekend is put together by hundreds of volunteers who are so proud of their heritage - it's completely moving.

With over 40,000 visitors a day, I've never seen so many people (both Italian and non-Italian) come together in celebration of all things Italian!  Upon arriving I met my driver, Ed, an off-duty police officer who volunteers to drive for the Festa every year.  He drove me to the SummerFest Grounds in the Third Ward of Milwaukee, which is located in the Italian section of the city.  Immediately, I was introduced to Nonna Francesca Balistreri Strycker, whose daughters entered her into the Cooking With Nonna search without her knowledge.  Her excitement was adorable, and I am so proud of how she overcame her shyness and did such a great job cooking with me both on TV and for the Festa.
I did my walk through at the cooking facility and met the queen of the Cucina Showcase, Mrs. Marie Leiber.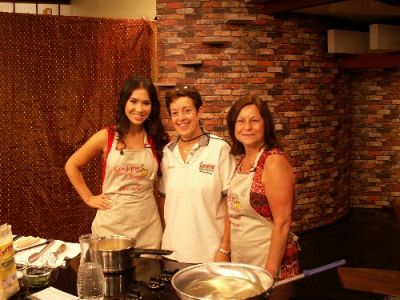 I can't thank this wonderful lady enough for not only inviting me to Milwaukee, but also making sure all my demos were set up perfectly and giving me so much individual attention when she had so much to deal with.  I only hope I wasn't too much of a diva!  The next morning was a big one.  I was so excited to do a live morning segment at NBC TMJ Milwaukee, but I was running a bit late.  Thank my lucky stars Ed was there for me.  He made sure I got there safely, on time, and obeyed all traffic laws.  Well, maybe not all traffic laws, haha!

The Segment went off without a hitch.  Nonna Francesca and I made Panelle  Siciliane (Chickpea Fritters) that are a traditional street food in Sicily.  They came out delicious and our host,  the very tall Tom Murray, enjoyed them with the rest of the crew after the segment was over.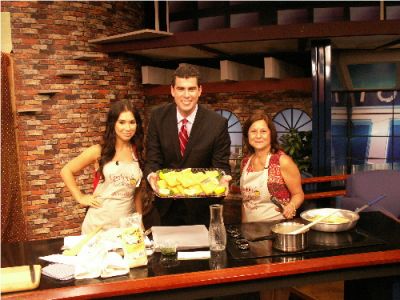 Hanging out at the Cucina Showcase I ran into my friend Nick Stellino backstage.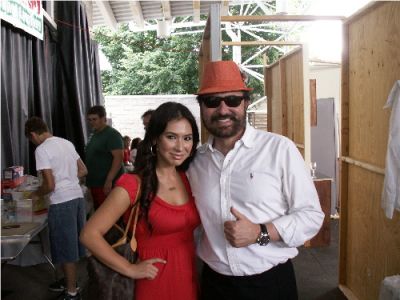 Nick has such a great sense of style! That orange hat was given to him by a fan right before he went on.  Luckily, it matched his shoes too.

My first demo with Nonna Francesca went so smoothly.  She's a natural!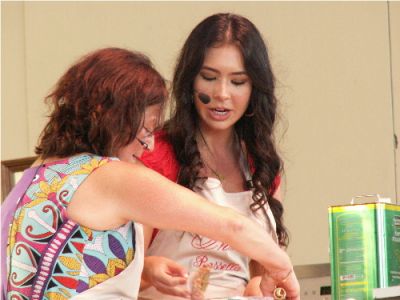 I was so happy to meet her entire family, which was there to support her.  I joked that out of all the Nonne I've ever had the pleasure to cook with, she had the biggest entourage.  What a wonderful family!  I especially enjoyed meeting her 84 year-old sister, Anna.  What a character!  Nonna Francesca and I demo'd the Panelle recipe, which was sampled by everyone in the audience, and Beef Spiedini, which were so delicious!
After my demo, I wanted to catch some of the performers at the Festa.  Now, with six stages and more than twenty musical acts it's just impossible to see everyone, but I did get a chance to see my good friend Giada Valenti perform.  She was lovely, as always, and some couples got up and danced to her romantic songs.  We hung out for a bit afterwards and caught the fireworks together.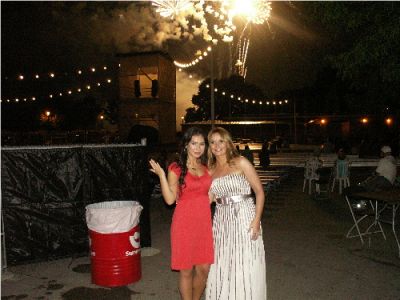 In the next day's demo I cooked by myself, and while it's nice to mix it up, I really missed Nonna Francesca, since she was such a sweetheart!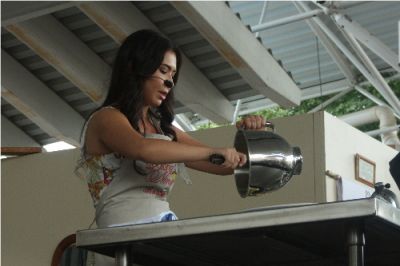 I decided to do a summer Pugliese menu and give people some quick, delicious recipes that I grew up eating during my summers in Italy.  I made a beautiful pasta dish, Spaghetti with Fagiolini (spaghetti with red sauce and string beans), and a Ciambella cake with apples.  Unlike my Nonna Romana's wedding cake, which was only eaten on special occasions, she would make this cake every Sunday.  I absolutely love its texture and light flavor, and I thought it would be great to share with everyone since it's super easy to make.

After my demo I walked around a bit and ran into this group of dancers who were all dressed in the traditional costumes of different regions of Italy.  I think it's so wonderful that these girls come together and volunteer their time every year for their community.  They danced a Tarantella and looked so gorgeous in their costumes.  The girls were nice enough to pose for a photo with me.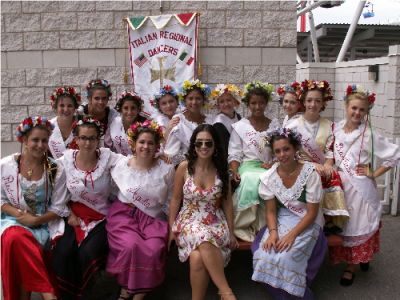 I really had a great time in Milwaukee.  I made so many new friends since all the performers were staying at the same hotel.  By the end of the weekend, we were like a family.  I was so lucky to have this wonderful experience and see how Italian Americans celebrate our culture in other parts of the country.  Thank you again to Marie Leiber for already inviting me back next year! I'm looking forward to it!

...and of course a Big Thank You to my sponsors for this event: Santa Armosa and Georgian Court University for making it all possible! Grazie!!!