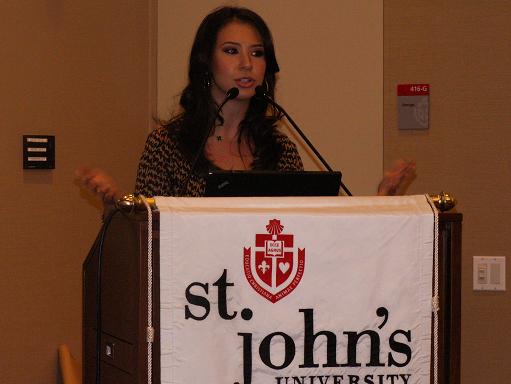 Yesterday, October 18, 2010,  I had the distinguished honor of going back to my Alma Mater - St. John's University together with the full Team Nonna: my Mamma Angela and my lovely Nonna Romana. The occasion was an event as part of the Italian Heritage Month celebrations. For me it was such an emotional experience. But just imagine for my Nonna... now she can finally say that she went to college!

Words cannot describe the experience. The house was full of  some of my former great professors, including Prof. Fiorentina Russo and Prof.  Gaetano Cipolla, students and Alumni. First we screened our  episode of the Food Network - 24 Hours Restaurant Battle, which was received with lots of laughter and applause and then me, my mother and Nonna addressed the audience.
So here I am, just two years ago I would be sitting in the audience listening to my professors lecture and now they are listening to me.... WOW!  All kidding aside, it was such an emotional experience for me to go back to my college and receive such a warm reception from the school and the audience.  I just could not hold my tears. These are experiences that you never forget.
Then my mamma took the podium and of course she is no stranger to drama... she did a fantastic job as usual. Next it was Nonna's turn to address the audience. As she walked up to the podium I could tell that she was just a bit nervous... but it took her only a minute to get comfortable  and she was on a roll.  The audience was absolutely in love with Nonna... I love you Mamma and Nonna! 
{morfeo 33}