How a Cornicello from Capri brought me good luck!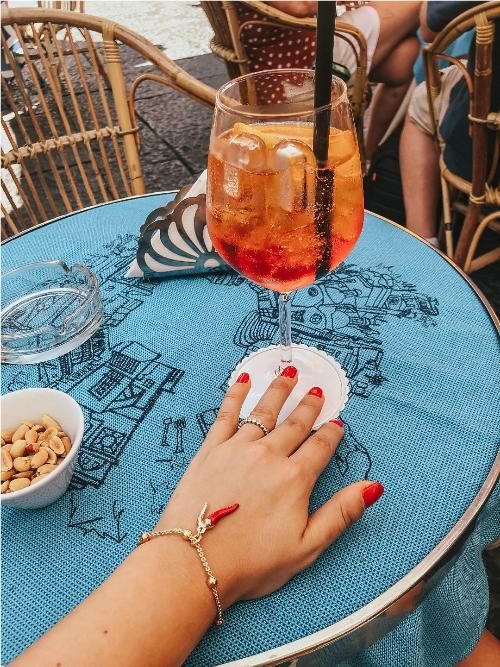 I spent the most wonderful afternoon in Capri this year on The Cooking With Nonna Tour. As my group shopped and explored I wandered into the sweetest little shop where I saw this adorable Cornicello bracelet in the window. The shopkeeper tried it on me and I knew it had to be mine for good luck!
As he handed me my change back I heard Nonna Romana's voice in my head. "A horn must be given to you a'Nonna. If you buy one for yourself you can never pay the full price or you will have bad luck!" She always implored me.
"May I have one cent back?" I asked the shopkeeper in a tone of voice that must have indicated my superstition.
"Why do you need a cent back?" He said as he smiled knowingly at me while handing me the tiny coin.
"Because my Nonna always told me you can never pay for the whole horn or it will bring you bad luck instead of good!" I said with an urgency that made him laugh.
"Very superstitious of you! Are you Neapolitan?".
"No. I'm Pugliese." I said sweetly.
"Ahh! Even better! Buona fortuna!" He said as he waved at me right before I shut the door.
As I walked down to the Piazza to have an Aperol Spritz I thought of how blessed I am to have Nonna's guidance in my life! Even when we're an ocean away she is always with me!
I first posted casually about this bracelet on my Instagram Page and the response was so overwhelming that I knew I had to figure out a way to get these bracelets to the states for everyone who wanted one. I'm so proud to report that these beautiful bracelets are now available in La Bottega straight from the Island of Capri! Each bracelet is handmade and dipped in 18K gold.
The practice of wearing a "cornicello" or Italian horn to keep evil away dates back to the 5th century B.C. and is a reflection of Greek and Roman mythology in southern Italy. The Italian horn is a universal symbol of virility, fertility and overall good luck!
I know this might sound silly to some, but ever since I have been wearing this bracelet I have been experiencing the very best luck! Maybe it's the confidence I feel wearing it knowing that there's that little extra protection around me? What do you think?
*Legend has it that a Cornicello must be bought for you to bring you good luck. If you do buy it for yourself you must never pay for the whole thing. Because we here at Cooking With Nonna would never want to mess with tradition or Nonna's superstition we will send you a penny back with each Cornicello purchase!
Buona Fortuna!
Get Your Good Luck Bracelets HERE!