Welcome to Campania

Gulf of Naples- Photo: Karsten Schulz
Campania, in the southwest of Italy, has a territory which stretches from its beautiful Tyrrhenian coastline and islands to the beautiful green plains and hills of the Apennines, a natural border to the eastern region of Puglia .
It is a region rich in history, from the Etruscan era, to the ancient Greek and Roman days, to the invasions of the Normans and Lombards, to being the cardinal point of the Kingdom of the Two Sicilie, which lasted until the unification of Italy. Driving the length of Campania is bearing witness to the passing of time, because every town, every corner holds treasures.
Campania has many beautiful cities as the region's capital Naples, Sorrento, Amalfi, Benevento, Avellino, Caserta, all museums themselves; and the delightful islands of Capri and Ischia. Not to forget the marvel of the Vesuvius volcano and the archeological and historical cities of Pompeii and Herculaneum.
Campania and Naples are known around the world for pizza (the first pizza was made in Naples) whether it be the original Margherita, or its derivates. But one must realize that it is really the home of what is called "the Mediterranean Diet", for it's great variety of pastas, vegetables and fresh cheeses and fish along the coast, combined only as the Campani can, make for a nutritious, healthy and delicious dishes.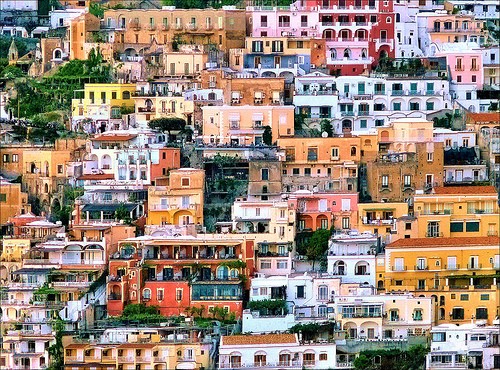 Caserta is known for the "mozzarella di bufala" made exclusively from whole buffalo milk. It obtained the DOP (Denominazione di Origine Protetta) mark, guaranteeing maximum quality for the consumers. But does one only make mozzarella? Actually, since most buffalos are bred and raised in this area, a must is "bocconcini di buffalo alla griglia", buffalo fillet or tagliata and buffalo stew.

The Tyrrhenian sea guarantees a wealth of fish, with vongole (clams), mussels, octopus, shrimps, cuttlefish, anchovies. How can one resist a nice dish of linguine alle vongole, or the famous Neapolitan "Fritto di Pesce", deep fried fish.

To accompany these great dishes, Campania offers quite a few varieties of wines, the most appreciated of which are the Greco di Tufo and the Fiano di Avellino, made from a blend of Aglianico grapes.

Advertisement


And after dinner? Well, desserts are countless, but just to name a few: "la sfogliatella napoletana" and "il Babba" (a French dessert adopted by the Neapolitans); struffoli drenched in honey or Pastiera, a cake made from grain and with a scent of orange extract. The mouth may get dry after this feast, so why not an ice cold Limoncello, typical liqueur of Sorrento, made from lemon peel, water, sugar and lots of alcohol!

Lemons - Photo: Marco Brambilla 2009