Fettuccine Alfredo Recipe
The one and only Creamy Fettuccine Alfredo. This is a very popular dish in North America and many believe that it is an Italian-American invention, right? Nooooo, history says that the dish was invented in 1914 by a restauranteur in Rome named Alfredo!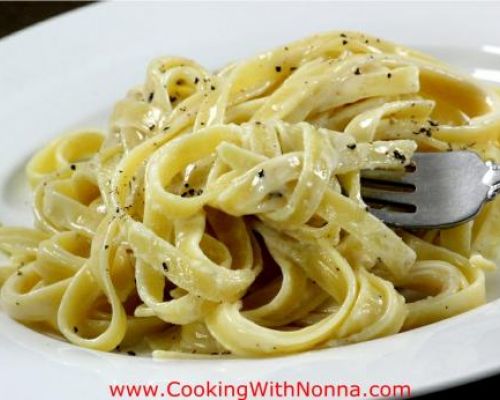 Ingredients
For 4 Person(s)
For the Pasta:
1

pound

Fettuccine pasta

1

cup

heavy cream

4

tablespoons

butter

1/2

pound

Parmigiano cheese, grated

black pepper

salt
Directions
Cook the fettuccine in salted water to Al Dente.

In a large saute pan, add the heavy cream and the butter. Warm up the cream so that the butter melts and keep the sauce on low flame.

Add the fettuccine and toss, while you toss add the grated cheese and black pepper, as desired, and continue tossing.

If the pasta looks dry add some pasta water.

Toss for 1 minute and serve immediately.