Girasole Delizioso
I'm always looking for new and original recipes to inspire me. When I first saw this recipe, I knew I just had to try it. I adapted it to my taste and here it is!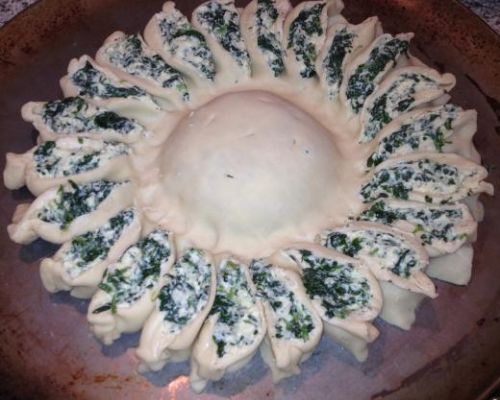 Ingredients
For 8 Person(s)
For the Dough:
1

pound

all purpose flour

3

ounces

extra virgin olive oil

6

ounces

warm dry white wine

2

teaspoon

salt

little water-only if needed!
For the Filling:
12

ounces

cooked spinach

12

ounces

ricotta cheese

1

large egg

1/2

cup

grated parmesan cheese

salt & pepper

a dash of nutmeg

plain bread crumbs
Directions
The Nonna Knives are Back!
You can't cook without them!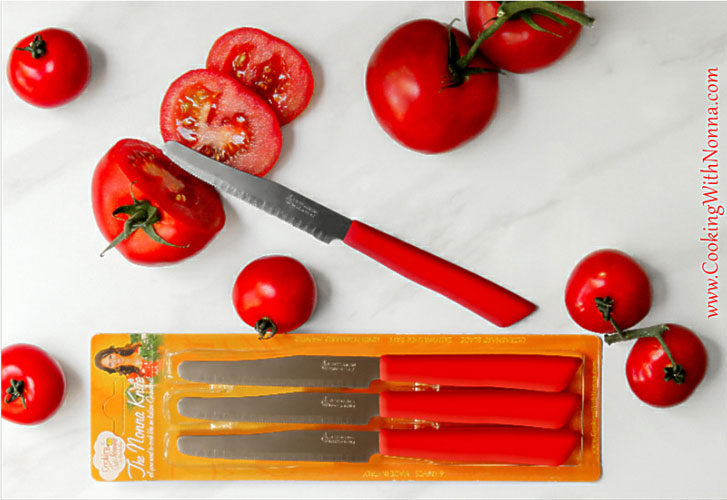 Mix all the ingredients for the dough and work it until smooth and it has an even consistency (with a mixer or by hand- note: If the dough is too dry, add a little water).

Cover it with plastic wrap and let it rest while preparing the filling.

Cook the spinach and squeeze out the extra water.

Chop it with a sharp knife.

Mix it with the ricotta cheese.

Add the grated cheese, salt and pepper plus nutmeg.

Make sure all ingredients are mixed well together.

Make two circles (12" each) using a rolling pin.

Place the 1st circle on parchment paper.

Spread some breadcrumbs on it.

Place part of the filling in the center of the circle.

Place the remaining filling in a ring around the center circle (close to the edges of dough-picture the planet Saturn when doing this! :) )

Cover it with the 2nd circle of dough.

Moisten and seal the borders using a fork.

Place a small bowl over the filled bump in the center.

Using a sharp knife cut the outside ring in 1" slices.

Turn each slice on its side (the filling becomes visible).

Remove bowl over center and poke gently with a fork..

Bake for 30 minutes in preheated oven at 375F.
Please Follow me on Instagram!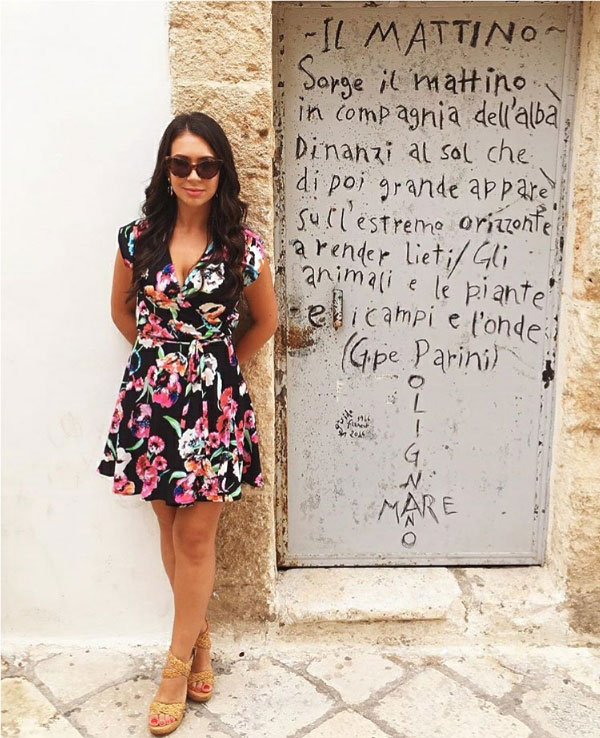 Recipe Notes
This is a wonderful appetizer. It looks great on a buffet table or as a centerpiece to your dinner table. Mine took 30 minutes to cook but use your own judgement according to your oven. Final color should be lightly golden. The picture I included here is of the pastry before going into the oven. After it came out, I didn't have time to take a picture since my guests dug right in! :)