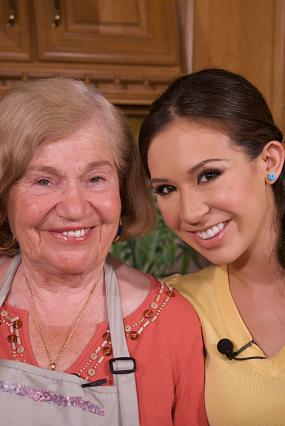 Ciao a Tutti!

Just because the summer sun has begun to set, doesn't mean it's too late to whisk ourselves off to a foreign destination.  This week, we're sending our taste buds on one last summer holiday, this time to an ancient paradise; a place where the heroic structures of antiquity punctuate the foothills of contemporary culture, the eternal city itself - Rome.  Nonna Yolanda will be lighting the way through the toppled ruins with the quintessential Roman dish: Spaghetti alla Matriciana.
When speaking in terms of authentic Roman cooking, Matriciana is never overlooked.  Just as a soup is the true test of a chef, so is the Matriciana sauce of Roman restaurants. Because its popularity is second only to the number of varieties one can concoct, the traditional recipe Nonna Yolanda has graciously provided for us has become the universal Roman yardstick  by which they
silently (and sometimes not so) judge one another.  This is yet another fine example of a meal fit for an entire family that can be whipped up in an improportionate stretch of time.
Nonna Yolanda hails from Gaeta - a small costal village on the southern coast of Lazio, and is but a stone's throw from Rome (about 70 miles).  Nonna Yolanda has exported the famous Roman accompaniment to almost every corner of the world.  Her personal favorite accomplishment was bringing this ancient recipe to the roaming plains of Africa, where she taught the locals from villages up and down the continent the everlasting joy of Italian cuisine.  Thank you, Nonna Yolanda, for all you've done for those all over the world, and for those of us watching and learning today.  

Tanti Baci,


Rossella