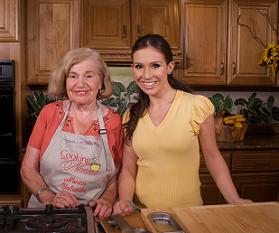 Ciao a Tutti!

With the coming of the autumn weather, we are witness to yet another ending of the natural cycle. Since no one can improve on nature, tonight will see the closing of our very first season!  It's fitting that we've saved this week's recipe for last. This week sees the return of Nonna Yolanda serving up her Saltinbocca alla Romana, which literally translates to "Jump in the Mouth". Because that may be a tough fit for a person (what with the shoes and all), we'll use veal cutlets, prosciutto and mozzarella instead.
The venerable dinner time mainstay of Lazio, Saltinbocca alla Romana is incredibly simple to prepare, and Nonna Yolanda walks us through the recipe with the kind of sharp acumen that all of us seek to possess, and that she conveys with the greatest of ease. The tenderness of the veal is complimented with the salty prosciutto and creamy mozzarella, and once you see just how quickly one can prepare the meal, it will soon make it's way to your table on a regular basis.
I'd like to leave you with some thoughts about our first season. There have been some ups and downs, and of course, we've had plenty of growing pains, but through it all, it's been an amazing experience.  The wisdom and insight of the Nonne has been nothing short of penetrating, and it's been a very joyous and humbling experience to have been able to work with them in helping to share with you their secrets. I'd like to also sincerely thank everyone involved with the production of the show. Without their dedication and hard work, this show would never have gotten off the ground. Of course, the show would really be nothing without you, our gentle viewers. I would like to thank all of you out there in front of your computers for leaving comments, emailing me personally, and of course, tuning in. It's because of the overwhelming interest from you out there in internet land that I'd like to announce the imminent arrival of the second season of Cooking with Nonna this October! There are so many surprises in store for you, our loyal viewers, coming very soon, so stay tuned, and grazie mille for a wonderful first season!


Tanti Baci,


Rossella