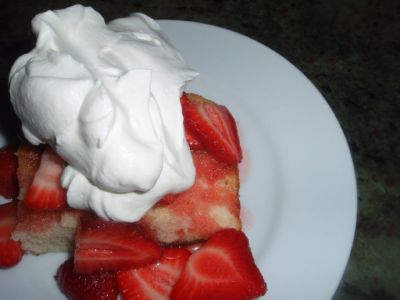 Let's take this very American dessert and give it an Italian twist for a simple Summertime treat, especially while strawberries are in season.  Cut up a pint of fresh sweet strawberries into slices and place them in a bowl.  Add 1/8 cup of sugar and 2 tsp. of Strega, and one tsp of fresh orange zest.  Here comes my Italian-American upbringing, the STREGA.  This is an ancient blend of flowers, spices and herbs, saffron which is produced in Benevento, Campania.  My maternal grandmother was born in CastelBaronia, Avellino, very near to Benevento.  My maternal grandfather was born in Grassano in Matera, way east of Benevento, but many of the spirits produced in the area were well known to all people in the regions.  There was always a bottle on top of his cabinet.  It makes an nice quick addition to a scoop of ice cream too.  At the old Monte's Venetian Room in Carroll Gardens, Brooklyn, they would soak their amazing Ricotta cheesecakes in Strega...a shame the place is now closed, the cheesecake was my favorite.  
The Strega gives a nice flavor to the strawberries which you will leave to macerate for at least 3 hours.  The sugar draws out all the moisture and creates that syrup which are made more aromatic with the orange zest and Strega.  Slice some pieces of a good butter pound cake or even better, some slices of Pan di Spagna, or Sponge Cake,pour the berries and their syrup over them and top with fresh whipped cream flavored with a touch of good Vanilla.
This should make 4 nice dessert servings.