Meet Nonna Mena Martino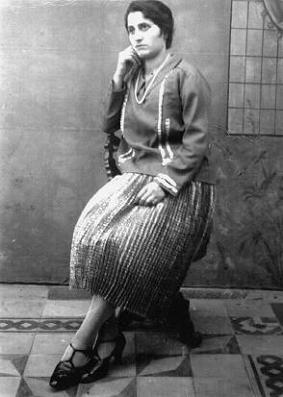 About Nonna Mena
Nonna Mena was born in 1904 in Rende (Cosenza) in the region of Calabria. In the '30s she moved to Rome and married Domenico who was also from Calabria and with him she had four children. There she lived through the challenging times of WW II but she got through them with inventiveness and frugality.
She often recounted to me stories about life in her town, the feasts when she wore her most beautiful dress and the shoes that she had custom made. She would tell me of the local specialties they ate: the sweets prepared for Christmas and Easter, the scaliddhi, the cutturieddhi, which are frittelle of potatoes stuffed with ricotta or anchovies.
In the 80's Nonna Mena and Nonno Domenico decided to leave Rome and go to live in the country. They bought a piece of land, built a home and planted a grapevine and a beautiful garden near a lake. From her garden Nonna Mena prepared many jams, dried legumes, peppers conserved in oil and hazelnuts for the winter. Having a green thumb, she even planted a banana tree which has grown into a beautiful and majestic three. But to this date, she is still waiting for the tree to produce the first bananas.
Nonna Mena Martino