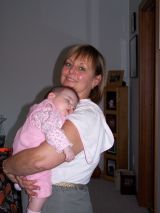 Lenda
My Golden Pots:

My Nonna Points:
16
Member of La Famiglia since:
09/13/2010
Italian Ricotta cheese cookies... can never have enough of these! Make them for Christmas, Easter or just about any time by changing the colors of
Happy Birthday Rossella!! Maybe you would love this Double-Chocolate Layered Torte for your Birthday!! ~~Great for Chocolate Lovers!! ~~
Lemon Pasta... Happy Birthday!!
Asparagus and Egg Salad... a great Easter dish or anytime!

Lenda
has uploaded a new recipe:
9 years ago

I entered a cupcake recipe for the contest and it has been waiting for review. I haven't seen it in a few days. Is it still in waiting? Just wondering, thanks.




Lenda
has uploaded a new recipe:
11 years ago
Pasta with Arrabbiata Sauce... very Hot!