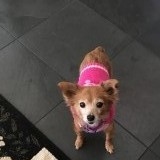 Patrizia1489
My Golden Pots:

My Nonna Points:
11
Member of La Famiglia since:
04/02/2014
Female Mother Pretty Good!
Rosella, a thousand years ago when I was a child, my family made ravioli with a spring greens filling that they only made in the spring. Do you have any idea what it might be?
Thanks!!
I got my cookbook last week and love it. The recipes are very much like the ones I remember my family cooking growing up. Thank you for a wonderful cookbook.