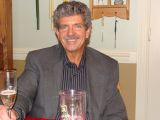 bobbyz21
My Golden Pots:

My Nonna Points:
11
Member of La Famiglia since:
12/21/2011
Male Father Pretty Good!

bobbyz21
has uploaded a new recipe:
10 years ago
This is a DeBlasis family recipe from the small town of Campolatarro, in the province of Benevento, Campania. The best description would be one of
I saw your recipe for Pizza Rustico. My family was from Campolatarro and have a very similar Easter recipe. We have never seen another recipe like it until yours. Would you mind sharing the history of that recipe? I will gladly share our recipe for "Ciavalone" as our family called it if you would like. Thank you!