Cappuccino Muffins
Cappuccino Muffins to have with your cappuccino in the morning.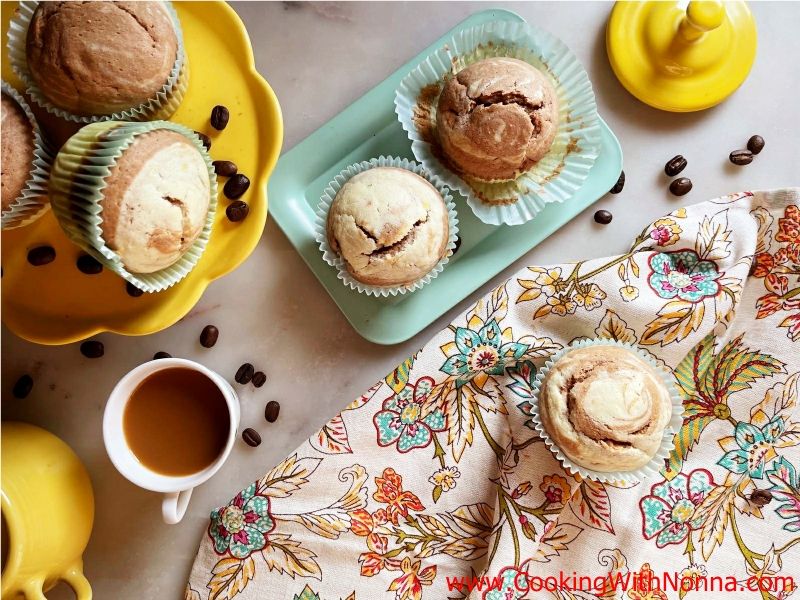 Ingredients
For 1 Batch(es)
For the Muffins:
4

cups

all purpose flour

2

large eggs

2

packets vanillina powder

1 1/2

cups

whole milk ricotta, room temperature

1 1/3

cups

granulated sugar

1/2

cup

butter, melted

1/2

cup

brewed espresso coffee, room temperature

1/2

cup

whole milk, room temperature

2

teaspoons

cocoa powder

2 1/2

teaspoons

teaspoon baking powder
Directions
Yield: 16 Muffins

Preheat your oven to 350 degrees. Line a muffin tin with paper liners.

In a mixing bowl, whisk together the flour and baking powder. Set aside.

In another mixing bowl, beat the egg, Vanillina and sugar together with an electric mixer until foamy.

Add in the melted butter and ricotta and beat until smooth.

Add the dry ingredients and mix until fully absorbed.

Divide the batter into 2 bowls. In one bowl add the milk and mix until combined.

In the other bowl add the espresso and cocoa powder. Mix until well combined.

Fill each muffin liner with 2 heaping tablespoons of the milk batter. Followed by 2 tablespoons of the coffee batter.

Using a toothpick, swirl the two batters together for a marble effect.

Bake until an inserted toothpick comes out clean, about 20 minutes.
Reviews
Friday, 05 February 2021
Yes, I added the flour/baking powder mix before I separated the batter. I liked the flavor, especial...
See Full Review >>
- Rosettaw
Sunday, 31 January 2021
I don't think I missed it as I've read the recipe a few times but the Cappuccino Muffin recipe doesn...
See Full Review >>
- rosanardulli