Meet Nonna Carolina Marino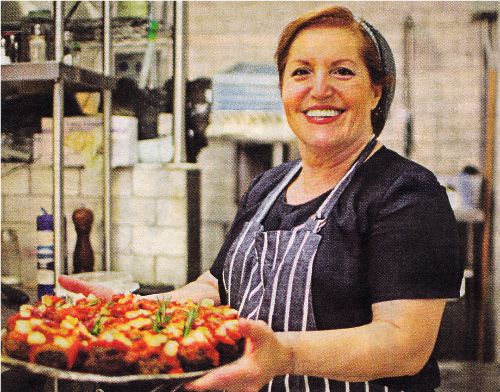 Photo: Nicholas Fevelo
About Nonna Carolina
My name is Carolina Marino. I was born and raised in Reggio Calabria (Italy) on a farm near the Ionian Sea where the family recipes were based on fresh caught fish from just down the road, farm raised lamb, goat, chicken, pork and rabbit right in our yard. Fresh fruits, herbs and pressed olive oil made from the hands of my own Nonna (now they call it Extra Virgin) were included in my daily diet. I would spend hours on my grandparent's farm learning the history and dynamics of the indigenous bounty that is Calabria.
From the very beginning, I began experimenting and creating my own recipes. However, the authenticity of Calabrese cooking has always remained a strong influence and inspiration with all my dishes. I can remember when I first cooked for my husband to impress him I decided to make Zeppole (it was around the holidays) and I forgot to add yeast! I couldn't understand why the dough wouldn't rise! I waited and waited. My husband shows up for our date and still the dough doesn't come up! What to do?! Now he will think I can't cook. I was so embarrassed! I think he always had faith in me because he married me. Good call, because he's been eating like a king for our whole marriage and I have NEVER forgotten the yeast since!

I emigrated to the United States 38 years ago with my husband Antonio and my two children Domenico and Francesco and settled in New York City. I would later have two more kids (we call them "the Americans") Maria and Michael after we settled into our new life here in NY. I have five grandchildren and more on the way. I always love to cook for my growing family.

I had never cooked professionally until recently joining the Enoteca Maria Restaurant team in Staten Island, NY where I am a guest chef: Nonna Carolina once a week cooking up a spicy storm of dishes from my very own Calabria, the region that made me who I am today: spicy and sweet!
Nonna Carolina Marino