Meet Nonna Rina Pesce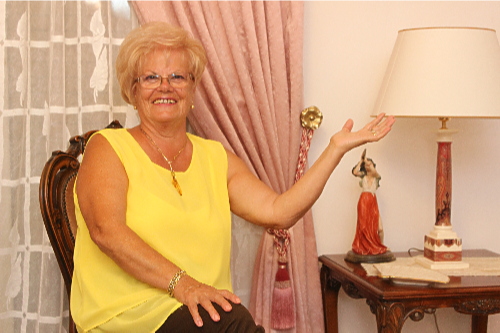 About Nonna Rina
I was born in Mola di Bari, in the region of Puglia and I come from a rather large family, there bothers and three sisters. I have always been close to my sisters, to the point that our friends called us the four seasons.
During the fifties, my mother Regina had a Generi Alimentari store (grocery store), so while my older sister Romana worried about the cooking in the house I was responsible for helping my mother in the store. I really loved it. It was a great way to socialize and talk to all kinds of people.
One of my favorite customers, Franchino, was also my fashion consultant.
He would often
come and suggest clothes and accessories to buy. A prosciutto sandwich was the best way to compensate him.
I remember that in those days I had also developed a phobia for cheese and, if anyone wanted to buy cheese… I would tell them we didn't have it because I did not want to touch it. Of course after a while everyone caught on and they would come behind the counter and cut it themselves.
When I got married I realized that perhaps I should have spent a bit more time in the kitchen instead of socializing in the store. Unfortunately my husband Matteo was a buongustaio (food lover) and my first cooking attempts were not very successful. I remember that one day I made focaccia, but unfortunately it came out so hard that my husband said: "Rina, this focaccia is so hard that we can use it as a weapon". Luckly, not on my head.
Of course as time went on and with the help of my mother and encouragement from my husband, my cooking has greatly improved and I have even overcome my cheese phobia.
Today, my children Giuseppe and Patrizia and their respective spouses and of course my lovely grandchildren: Francesco, Martina and Madilde just love my cooking. "Nonna Rina's focaccia is out of this world!" says my grandson Francesco.
Nonna Rina Pesce