Baked Rigatoni - Rigatoni al Forno
Baked Rigatoni... a great pasta dish for the summer and for outdoor dining.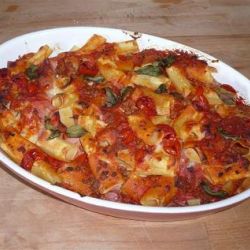 Ingredients
For 4 Person(s)
Recipe
1

pound

rigatoni pasta

4

cups

tomato sauce

1/2

pound

chopped meat (beef)

1/2

pound

grated Parmigiano

1

pound

mozzarella

1/4

pound

ham

1/2

cup

dry white wine

extra virgin olive oil

3

leaves of fresh basil

1

medium

onion

salt & pepper
Directions
In a sauce pan add some olive oil and chopped onion.

Once the onion turns clear add the chopped meat an let it saute` in the oil and the onion.

After 3 minutes add the wine and let it evaporate for 5 minutes.

Add the tomato sauce and let everything cook at low heat for 20 minutes. Stir from time to time.

In a separate pot boil water and cook the rigatoni.

The rigatoni should be cooked very "Al Dente".

In an oven pan spread a thin layer of meat sauce and add a layer of rigatoni.

Cover the rigatoni with a layer of sauce and a good sprinkle of Parmigiano.

Add a layer of mozzarella cut in small cubes and a layer of slices of ham.

Repeat the layering process until you have no more rigatoni.

The last layer of rigatoni should be covered with a generous layer of sauce, a good sprinkle of Parmigiano and mozzarella cubes.

Bake in the oven for 15 minutes at 375F.
Reviews
Thursday, 14 December 2017
I liked the layering of the ingredients because that preserves the individual ingredients flavors.
- lkkalj
Thursday, 14 December 2017
i have a question. on your baked rigatoni can i use my own red sauce or would it be best with yours?
- larsonkoala2
Thursday, 14 December 2017
Tried this version, excellent! I like more mozzarella than parm, but otherwise, I made it exactly as...
See Full Review >>
- Stregalibby