PS: When you eat them, it is suggested that you use a toothpick to pull out the meat from the shells and such the juices out of each each shell... it is the best part!
Some useful notes about cleaning Monachelle
or small live snails in general.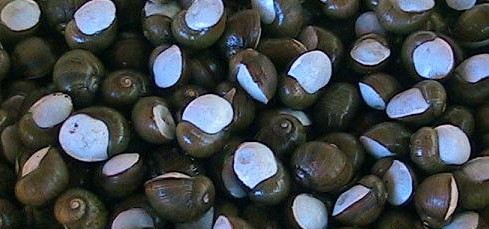 Monachelle is a variety of snails found in open fields in southern Italy. Other varieties are also found and can be used which generally have a white shell.
Snails, whether you buy them or on your next vacation you venture to pick them in an open field (please be sure that the field has not been treated with chemicals) may need to be cleaned first before you can cook them.
Snails during a part of the year go into hibernation. However, before doing so, they completely digest all the food in their intestine and create a white membrane to completely close the shell (see photo above).
If you buy or pick the snails yourself then you must determine in which stage they are in. If in hibernation, then after you boil them they you can easily remove the white membrane while you rinse them.
If they are not in hibernation, then you follow this process for the snails to complete their digestion process:
Put the snails in a large container and cover the container with a screen so that the snails can breathe but not escape. You are advised to put a weight on the screen as collectively they can generate a great deal of force and they you will find them all over the house. The complete digestion process will last 4-5 days. Each evening you should wash the snails in cold water and put them back in the container. At the end of the digestion process, wash the snails in cold water several times until the water is very clean. Now they are ready for the recipe as above.