A Bowl of Cherries
When Cherries are not in season... make your own!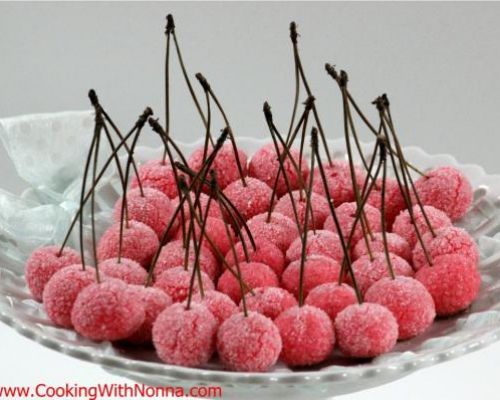 Ingredients
For 1 Batch(es)
For the Cherries:
1

pound

raw almonds

1/2

pound

sugar

3

egg whites

1

teaspoon

cherry extract

a few drops of red food color

stems from fresh cherries when in season or you can use trimmed pine needles.
Directions
To prepare the paste, boil the almonds and remove the peel. Once they are cold and somewhat dry, put them in a food processor or a blender and chop them finely.

Put the chopped almonds in a bowl, add the sugar, the egg whites and the cherry extract. Mix until the egg whites dilute the sugar and the mixture becomes a paste.

Add a few drops of red food color and mix well. Add more food color to get the color that you prefer.

Take a small lump of dough, roll it in your hands to form a small ball. Once rolled, roll it in granulated sugar until uniformly coated. Place on a greased baking pan. As you place the cherries on the baking pan, put two of then next to each other but make sure that they are not touching.

Insert one end of the pine needle in one cherry and the other end of the pine needle into the cherry next to it. Put the stems in all the cherries.

Bake for 10 mins. at 350F. Let the cherries cool well before moving to a serving bowl.
Recipe Notes
These also make excellent edible decorations for your Chitsmas Tree!
Categories:
Dessert & Cookie Recipes
,
Baking with Rossella
,
Easy Recipes
,
All Recipes
,
Christmas Recipes
,
Easter Recipes
,
Valentine's Day Recipes
,
Mother's Day Recipes
,
Father's Day Recipes
,
4th July Recipes
,
Christmas Cookies Recipes
,
Easter Cakes and Cookies
,
Valentine's Cake and Cookie Recipes
,
Cookies Recipes
,
Summer Dessert Recipes
,
Thanksgiving Dessert Recipes
,
Almond Cookie and Dessert Recipes
,
Italian Wedding Cookies and Pastries