Frutta Martorana
Frutta Martorana, or Marzipan... can be molded into colorful fruits and vegetables.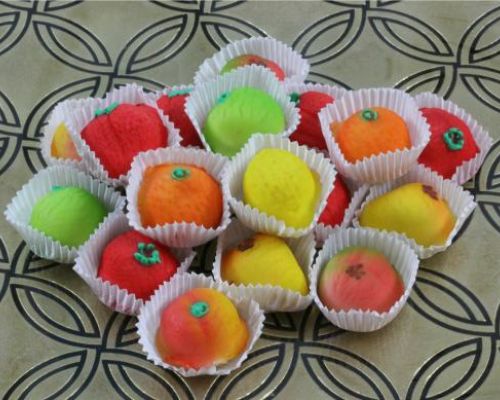 Ingredients
For 1 Batch(es)
For the Frutta:
1

pound

almond flour

12

ounces

sugar

2 1/2

ounces

corn syrup

4 1/2

ounces

water

food colors
Directions
In a pan warm up the water and dissolve the sugar and corn syrup at low flame and making sure that the fluids do not boil. Stir continuously until you obtain a syrup.

Let the syrup cool down to lukewarm and add the almond flour. Mix well and put int forms.

Refrigerate for 24 hours, color and decorate as desired.
Categories:
Dessert & Cookie Recipes
,
Sicilian Recipes
,
Intermediate Recipes
,
All Recipes
,
Christmas Recipes
,
Thanksgiving Recipes
,
Easter Recipes
,
Valentine's Day Recipes
,
Mother's Day Recipes
,
Father's Day Recipes
,
Memorial Day Recipes
,
4th July Recipes
,
Christmas Cookies Recipes
,
Easter Cakes and Cookies
,
Valentine's Cake and Cookie Recipes
,
Cookies Recipes
,
Summer Dessert Recipes
,
Almond Cookie and Dessert Recipes