Nonna's Apple Filled Cookies
As long as I can remember fruit filled cookies have been in my family. My great grandmother Regina would bake these in her little bodega in Mola di Bari in Italy and my Nonna Romana has been making her version for years. In fact, recipe is a remix of my Nonna's original marmalade filled cookie recipe that everyone loves. I decided to give filling them with a delicious apple compote and the result was amazing! They actually taste like little apple pies. I love how moist these cookies are despite not using any butter at all. In southern Italy, where my great grandmother started making these cookies, using butter was unheard of. Extra virgin olive oil does a fantastic job making these cookies soft and moist.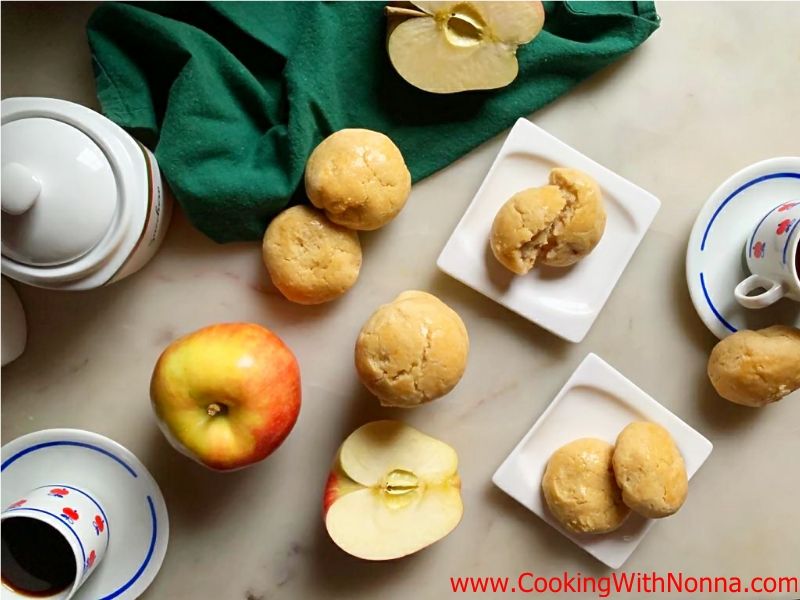 Ingredients
For 3 Dozen(s)
For the Cookies:
3 1/3

cups

all purpose flour

2

cups

granulated sugar

1

tablespoon

baking powder

4

large eggs

3/4

cup

olive oil

1

lemon, zest only

1

large egg for the egg wash
For the Filling:
3

Gala apples peeled, cored and cut into 1/2 inch cubes

1/4

cup

apple juice

2

tablespoons

granulated sugar

1/4

cup

water

1

teaspoon

vanilla extract

1/4

teaspoon

cinnamon
Directions
In a medium sized saucepan add the apples, juice, water, sugar, vanilla and cinnamon and bring to a boil. Cover for 10 minutes. Uncover and lower the heat to a simmer.

Begin to stir and mash the apple chunks with a wooden spoon or a potato masher.

Cook until most of the liquid is evaporated and you have mashed the apples into a paste.

Cool completely before using.

Pre-heat the oven at 375F.

Line a baking sheet with tin foil.

In a large bowl or a stand mixer beat the eggs and the olive oil together until they are well combined.

Mix in the baking powder, sugar and lemon zest. Add the flour all at once and let it mix completely for about one minute until the dough comes together. Dough will be soft.

Dip your fingertips in flour and take a golf ball sized piece of dough. Flatten the dough and begin to stretch the edges being careful to leave the center a bit thicker.

Place a spoonful of apple filling in the center and fold the dough closed. Pinch the closed seem together on the bottom of the cookie and crate a round shape.

Dip the bottoms of the cookies in flour and arrange them on the baking sheet.

Beat the remaining egg and brush each cookie with the egg wash.

Finish with some sugar sprinkles.

Bake for 20 minutes or until the tops begin to color
Recipe Notes
Some users have commented that the dough is a bit sticky and hard to handle. Nonna Romana says that the softer the dough, the softer the cookie so please resist adding more flour to dry it out. Instead It's imperative to dip your finger tips, especially your thumbs in the flour to help stretch out the dough.
Have some patience!
Reviews
Thursday, 14 December 2017
Rosella, I make something like this but with piecrust recipe. Would your Nonna consider doing a vid...
See Full Review >>
- RhodaJoan