Nonna's Anise Cookies
Nonna's Anise Cookies, perhaps one of the most popular cookie from the Italian cuisine. It can be adapted for any holiday or occasion. Just change the color of the icing and the sprinkles and you have the perfect cookie!
Ingredients
For 2 Dozen(s)
For the Cookies:
3

large eggs

2 1/2

cups

all purpose flour

1

cup

confectioner's sugar

1

tablespoon

plus 1/2 teaspoon baking powder

1/2

cup

butter, softened

1

tablespoon

anise extract (you can adjust the flavor to your liking)

1

teaspoon

vanilla extract
For the Icing:
1 1/2

cups

confectioner's sugar

3

tablespoons

heavy cream

1/2

teaspoon

whole milk

1/2

teaspoon

anise extract or Sanbuca liqueur

1

drop any food coloring

white nonpareils
Try La Pasta della Nonna in
La Grande Famiglia Pasta Pack
with
FREE Shipping!
Get it HERE!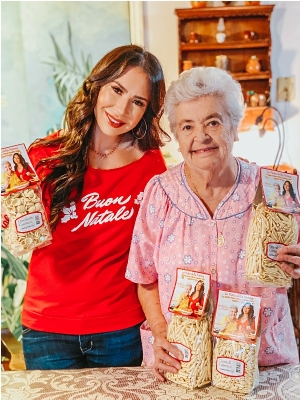 Directions
For the Cookies:

Preheat the oven to 350 degrees.

In a large mixing bowl beat the eggs with an electric mixer until foamy. Set aside

In the bowl of a stand mixer fitted with the paddle attachment combine the flour, sugar and baking powder. Mix on low speed and gradually add in the butter and extracts until the mixture resembles crumbs.

Add in the beaten eggs and mix until a stiff dough forms.

Roll about 1 rounded teaspoon of dough into balls and place about 2 inches apart on an ungreased 13x18 baking sheet.

Bake for 10-12 minutes. The cookies will be slightly cracked on top. Transfer to a wire rack to cool completely.

To make the Icing:

In a small bowl mix together the confectioners sugar, heavy cream, milk, extract and food coloring. If you prefer a thinner icing you can thin it out with more cream or milk. Spoon over the cookies and decorate with sprinkles. Allow the icing to dry completely.
Categories:
Nonna Romana Sciddurlo
,
Dessert & Cookie Recipes
,
Easy Recipes
,
All Recipes
,
Christmas Recipes
,
Thanksgiving Recipes
,
Easter Recipes
,
Valentine's Day Recipes
,
Mother's Day Recipes
,
Father's Day Recipes
,
Christmas Cookies Recipes
,
Easter Cakes and Cookies
,
Valentine's Cake and Cookie Recipes
,
Cookies Recipes
,
Thanksgiving Dessert Recipes
Reviews
Thursday, 05 September 2019
These cookies are exactly what I remember from my childhood. I agree, use the Sambuca. It gives a ni...
See Full Review >>
- SuzieMG