Almond Flour Cookies
Almond Flower Cookies... crunchy and with a delicate almond flavor.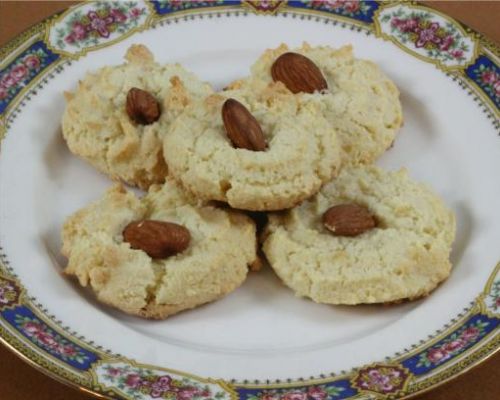 Directions
Preheat the oven at 350F.

Mix the eggs and the sugar very well.

Add the almond extract and the Anisette liqueur and mix well.

Add the almond flour and mix.

Put the dough in a pastry bag and create the almond flowers.

Insert an almond or half of a Maraschino cherry at the center of each cookie.
Categories:
Dessert & Cookie Recipes
,
Sicilian Recipes
,
All Recipes
,
Christmas Recipes
,
Thanksgiving Recipes
,
Easter Recipes
,
Valentine's Day Recipes
,
Mother's Day Recipes
,
Father's Day Recipes
,
Christmas Cookies Recipes
,
Easter Cakes and Cookies
,
Valentine's Cake and Cookie Recipes
,
Cookies Recipes
,
Gluten Free Dessert Recipes
,
Vegan Dessert Recipes
,
Mediterranean Diet Dessert Recipes
,
Thanksgiving Dessert Recipes
,
Almond Cookie and Dessert Recipes
Reviews
Tuesday, 06 November 2018
I made these cookies and they tasted delicious. The only thing that I did not put in the recipe is ...
See Full Review >>
- Sassi