Nutella Mousse
Nutella Mousse... it goes everywhere! - Video of Recipe Available!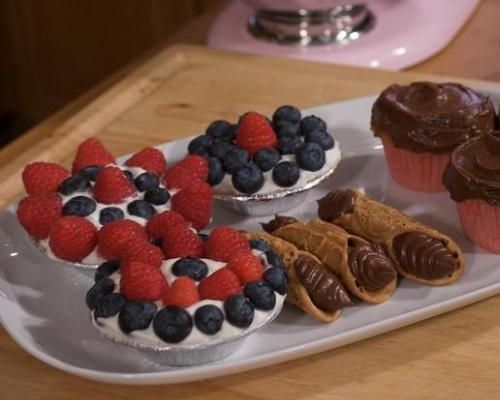 Ingredients
For 1 Batch(es)
For the Mousse:
1

jar

Nutella (375 Gr.)

8

ounces

Mascarpone Cheese
For the Whip Cream:
1

pint

heavy whipping cream

1/4

cup

sugar
Directions
Mascarpone Mousse:

Pour the mascarpone cheese in a KitchenAid Stand mixer.

Add the Nutella.

Mix everything for 2-3 minutes.

Whip Cream:

Pour the heavy whipping cream in a large bowl.

Add the sugar.

With an electric mixer begin to mix slowly and then increase the speed.

Continue mixing until the cream is fluffy and will not fall from your mixer's blades.

Usage:

Put the mousse in a clean plastic bag. Cut a small opening at one angle of the bag and pipe the mousse into any of your favorite forms: cannoli shells, over cupcakes, pastry shells, etc.

Cover with whip cream or fresh berries as desired.
Categories:
Dessert & Cookie Recipes
,
Baking with Rossella
,
Easy Recipes
,
All Recipes
,
Christmas Recipes
,
Thanksgiving Recipes
,
Easter Recipes
,
Valentine's Day Recipes
,
Super Bowl Recipes
,
Nutella Recipes
,
Chocolate Recipes
,
Mother's Day Recipes
,
Father's Day Recipes
,
Memorial Day Recipes
,
4th July Recipes
,
Labor Day Recipes
,
Easter Cakes and Cookies
,
Valentine's Cake and Cookie Recipes
,
Valentine's Day Nutella Recipes
,
Custard, Pudding and Mousses
,
Cupcake Recipes
,
Rossella Nutella
,
Summer Dessert Recipes
,
Thanksgiving Dessert Recipes
,
Cannoli Recipes
,
Christmas Dessert Recipes
Reviews
Saturday, 12 May 2018
Delicious
- Sanny