Lucy's Cannoli Siciliani
The true and traditional Sicilian Cannoli.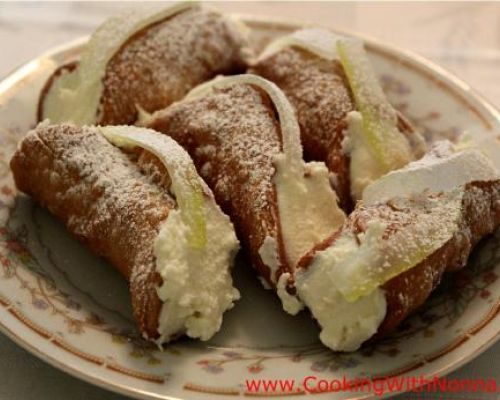 Ingredients
For 2 Dozen(s)
For the Shells:
1

pound

all purpose flour

3 1/2

ounces

lard or Crisco

2

tablespoons

sugar

2

egg yolks

1/2

cup

cup + 2 tablespoons red wine

1/2

tablespoons

vanilla extract

1/2

teaspoon

cinnamon

1

egg for the egg wash

oil for deep frying
For the Filling:
1 1/2

pounds

ricotta impastata

3/4

cup

sugar

1

teaspoon

vanilla extract

zuccata or candied orange/lemon for garnishing
Directions
Shells:

In a stand mixer, add the flour and the lard or the Crisco. Let he flour absorb all the lard.

Add the egg yolks and mix.

Add the sugar, vanilla and cinnamon and mix.

Little by little add the wine and mix well until you have a ball of dough.

Cover the dough in plastic paper and let it rest for one hour.

Roll a piece of dough into a very thin layer, cut the dough into squares, about 3'x3" or in circles and roll them diagonally on a metal tube making sure that the tips overlay on each other. Put some egg wash between the tips and press to make sure they they are glued well.

Deep fry the cannoli shells until they are lightly golden. Set aside so that they completely cool.

Filling:

Mix the Impastata with the sugar.

Pass the entire content through a sieve so that you obtain a very creamy mix.

Add the vanilla extract and mix well.

Fill all your cannoli and garnish with Zuccata or slices of candied orange or lemons.
Categories:
Dessert & Cookie Recipes
,
Sicilian Recipes
,
Intermediate Recipes
,
All Recipes
,
Christmas Recipes
,
Thanksgiving Recipes
,
Easter Recipes
,
Valentine's Day Recipes
,
Ricotta Recipes
,
Mother's Day Recipes
,
Father's Day Recipes
,
Christmas Cookies Recipes
,
Easter Cakes and Cookies
,
Valentine's Cake and Cookie Recipes
,
Pastry and Tart Recipes
,
Thanksgiving Dessert Recipes
,
New Year's Eve Recipes
,
Cannoli Recipes