Pistachio Pandoro Truffles
Pistachio Pandoro Truffles.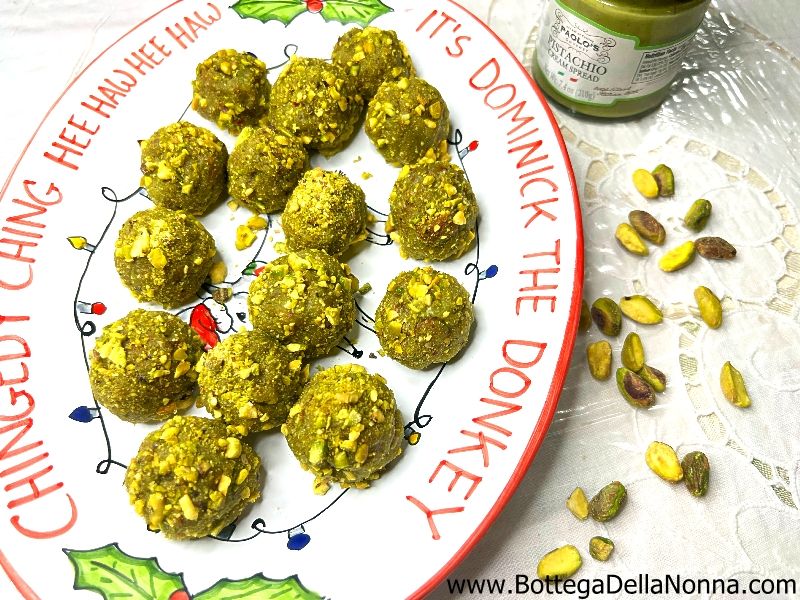 Ingredients
For 1 Batch(es)
For the Truffles:
1

- 1 1/2 inch thick slice Pandoro

1/3

cup

Pistacchio Spread, plus extra for filling the truffles

2

packets Vanillina powder or 2 teaspoons vanilla extract

1

teaspoon

almond extract

2

tablespoons

whole milk, half n half or heavy cream

2

cups

Crushed pistachios for rolling
Directions
Yield: about 15 Truffles

Get the products needed in this recipe

HERE

In a mixing bowl, break up the Pandoro into small pieces using your hands.

Add the pistachio spread, Vanillina, almond extract and milk. Mix using a spatula until all the ingredients are fully incorporated and the mixture forms a paste.

Scoop out 1 tablespoon at a time and roll into a ball. Flatten the ball into a disk and add 1/2 teaspoon of pistachio spread to the center. Seal the balls and roll them closed using a little more dough if you need.

Roll each ball in the crushed pistachios.

Chill for 2 hours or overnight. Serve chilled.