Almond Horn Cookies
Almond Horn Cookies... or Almond Horse Shoes Cookies!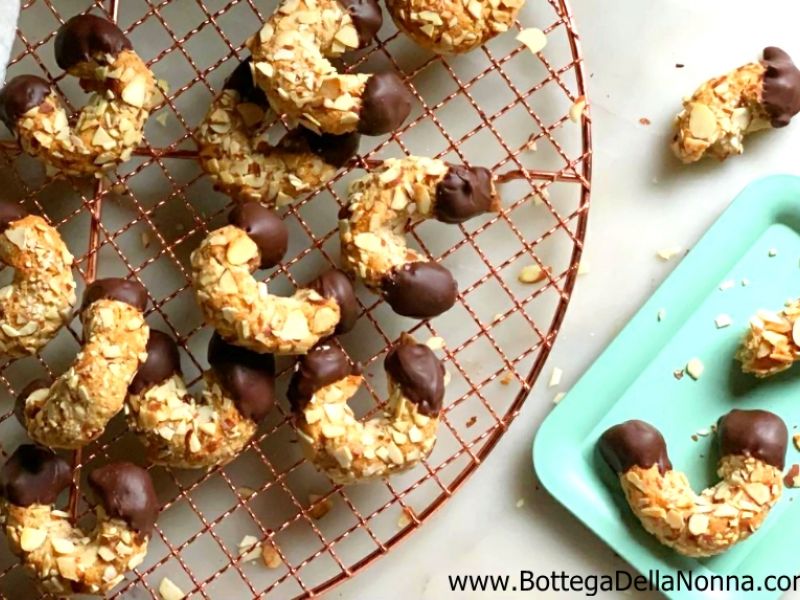 Ingredients
For 2 Dozen(s)
For the Cookies:
10

ounces

almond paste

4

ounces

whole almonds

1

cup

sliced almonds

1

teaspoon

almond extract

1

egg white

1

cup

semisweet chocolate chips
Directions
Preheat oven to 375 degrees.

In a food processor, process whole almonds until finely ground. Set aside.

Place the sliced almonds in a bowl and crush coarsely by hand. Set aside.

Break up the almond paste with your hands and add to the bowl of a stand mixer.

Add the processed almonds and mix.

Add the egg white and almond extract. Mix until the dough comes together.

Separate the dough into 14 equal pieces. You can weigh them to be more exact, they should all weigh 1oz.

Roll each piece into a ball and roll in the sliced almonds. As you roll each piece in the almonds shape them into ropes and form the U.

Place each piece on a foil lined baking sheet.

Bake for 15 minutes or until the almonds begin to turn golden.

Over a double boiler melt the chocolate chips and dip the blunt ends of each cooled cookie and cool on tin foil. Allow the chocolate to cool completely before serving.
Categories:
Dessert & Cookie Recipes
,
Baking with Rossella
,
Easy Recipes
,
All Recipes
,
Christmas Recipes
,
Thanksgiving Recipes
,
Easter Recipes
,
Valentine's Day Recipes
,
Mother's Day Recipes
,
Father's Day Recipes
,
Christmas Cookies Recipes
,
Easter Cakes and Cookies
,
Valentine's Cake and Cookie Recipes
,
Cookies Recipes
,
Summer Dessert Recipes
,
Thanksgiving Dessert Recipes
,
Almond Cookie and Dessert Recipes