Soft Lemon Almond Cookies - Amaretti Morbidi
Soft Lemon Almond Cookies - Amaretti Morbidi.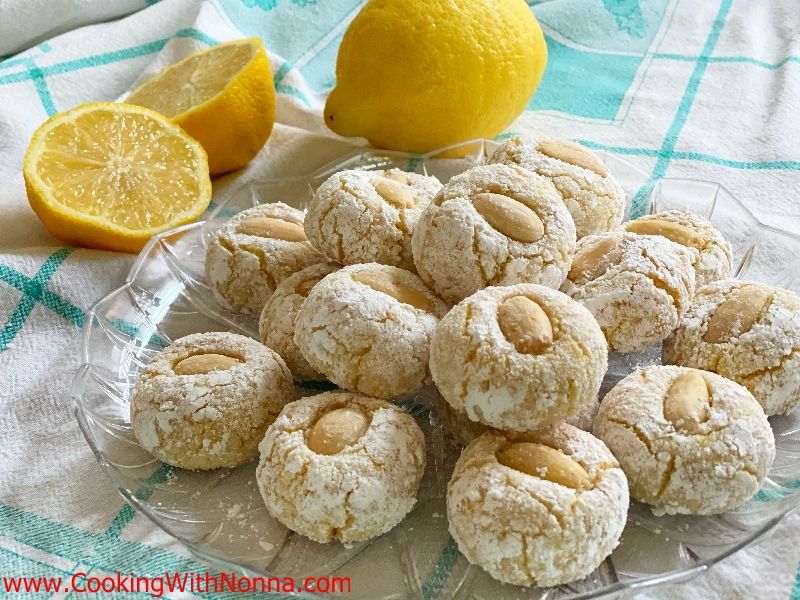 Ingredients
For 2 Dozen(s)
For the Cookies:
1 1/2

cups

almond flour

1/2

cup

granulated sugar, plus more for rolling

3

lemons, zest only

1

lemon, juice only

1

large egg white

confectioners sugar for rolling

blanched almonds for decorating (optional)
Directions
Preheat your oven to 350 degrees.

Line a baking sheet with parchment paper. Set aside.

In a mixing bowl, combine the almond flour and sugar. Mix with a wooden spoon until there are no lumps. Add in the zest, juice and egg white and mix with your hands until a paste forms. The paste should hold its shape.

Add some granulated sugar to a shallow dish. Add some confectioners sugar to a separate shallow dish.

Take a level tablespoon of dough (I used an actual tablespoon to measure) and roll it into a ball. Roll the ball in the granulated sugar first and then in the confectioners sugar.

Place the cookies on the parchment lined baking sheet and place the blanched almond on top, making sure to press each Almond into the cookie and flattening them slightly.

Bake for 15 minutes or until the bottoms begin to brown.

*The cookies may still feel slightly soft out of the oven, but they will firm up as they cool.
Reviews
Thursday, 23 February 2023
Divine ?
- Azzypat
Monday, 18 July 2022
These cookies are easy to make and taste is so good with a perfect texture.
- AnnetteLC
Saturday, 20 June 2020
Perfect summer cookie! These are so easy to make and packed with flavor. My whole family loved them...
See Full Review >>
- cminniect