Primitivo Red Wine Cookies
Primitivo Red Wine Cookies.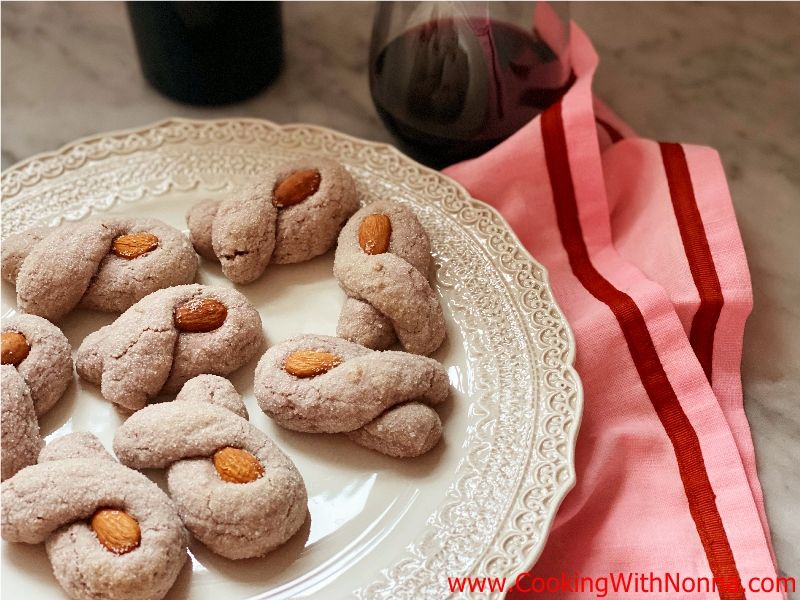 Ingredients
For 2 Dozen(s)
For the Cookies:
2

cups

00 or all purpose flour

2

teaspoons

baking powder

1/2

cup

Primitivo Red Wine (or any red wine you prefer)

6

tablespoons

olive oil

1/2

cup

granulated sugar, plus more for dipping the cookies

whole almonds to decorate
Directions
Preheat your oven to 400 degrees

Line a baking sheet with parchment paper.

Pour some granulated sugar into a shallow dish. Set aside.

In a mixing bowl, whisk together the flour and baking powder. Set aside.

In another mixing bowl, whisk together the wine, oil and sugar until the sugar dissolves.

Add in the dry ingredients and mix with your hands or a spoon until all the flour is absorbed.

Take a piece of dough and roll it out into a rope about 1/2 inch thick and 4-5 inches long. Cross the rope over once to make a fish shape.

Place a whole almond over the opening and dip the front of the cookie in granulated sugar. Place the cookies 2 inches apart on the baking sheet.

Bake for 10 minutes, or until the bottoms have slightly browned. The cookies may be a bit soft out of the oven but will firm up as they cool.