Lemon Drop Cookies - Anginetti
Lemon Drop Cookies or Anginetti are the perfect cookies for all holidays and all special occasions.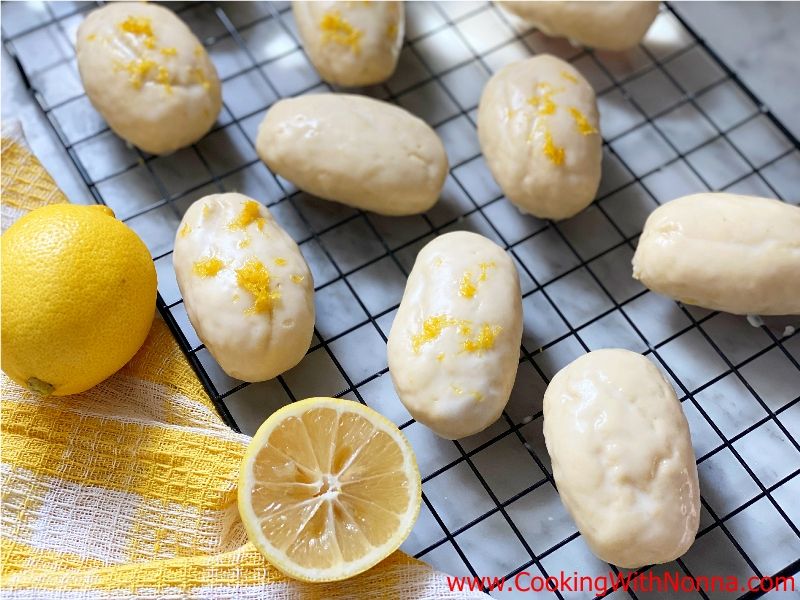 Ingredients
For 2 Dozen(s)
For the Cookies:
2

cups

00 or all purpose flour

2

teaspoons

baking powder

1/4

teaspoon

salt

1/2

cup

granulated sugar

1/3

cup

vegetable shortening

2

large eggs, room temperature

2

tablespoons

heavy cream or whole milk

zest and juice of 1 lemon

2

teaspoons

lemon extract
For the Icing:
1

cup

confectioners sugar

3

tablespoons

limoncello liqueur

1

teaspoon

lemon extract
Directions
SHOP Nonna's Lemon Drop Cookies

HERE!

To make the cookies:

Preheat your oven to 350 degrees. Line baking sheets with parchment paper.
In a mixing bowl whisk together flour, baking powder and salt. Set aside.
In another bowl combine the sugar and shortening. Beat with an electric mixer until fluffy, about 5 minutes.
Beat in the eggs one at a time until fully incorporated.
Beat in the cream, zest, juice and extract.
Add in the dry ingredients and beat on low speed until just absorbed. Do not over mix.
Scoop about 2 tablespoons of dough at a time and roll the dough into a ball between your hands.
Roll the ball into a 3 inch log and place the cookies 2 inches apart on the parchment lined baking sheets.
Bake for 15 minutes or until the bottoms are lightly browned. Cool completely before glazing.

To make the glaze:

In a bowl whisk together the Confectioners Sugar, limoncello and lemon extract until smooth. Dip the tops of the cookies in the glaze. Dry on a wire rack.
Categories:
Dessert & Cookie Recipes
,
Baking with Rossella
,
All Recipes
,
Christmas Recipes
,
Thanksgiving Recipes
,
Easter Recipes
,
Valentine's Day Recipes
,
Mother's Day Recipes
,
Father's Day Recipes
,
Christmas Cookies Recipes
,
Easter Cakes and Cookies
,
Valentine's Cake and Cookie Recipes
,
Cookies Recipes
,
Thanksgiving Dessert Recipes
Reviews
Sunday, 11 December 2022
I made these tonight. They came out terrific! The only thing I would recommend is make the cookies...
See Full Review >>
- dlsalas
Tuesday, 16 July 2019
these look delicious..but i think the recipe measurements are messed up or cut off on the left...
- artyjudy1
Thursday, 14 December 2017
Just like Nonna used to make!
- nyc teamster