Sweet Ricotta Brioche Rolls
Sweet Ricotta Brioche Rolls.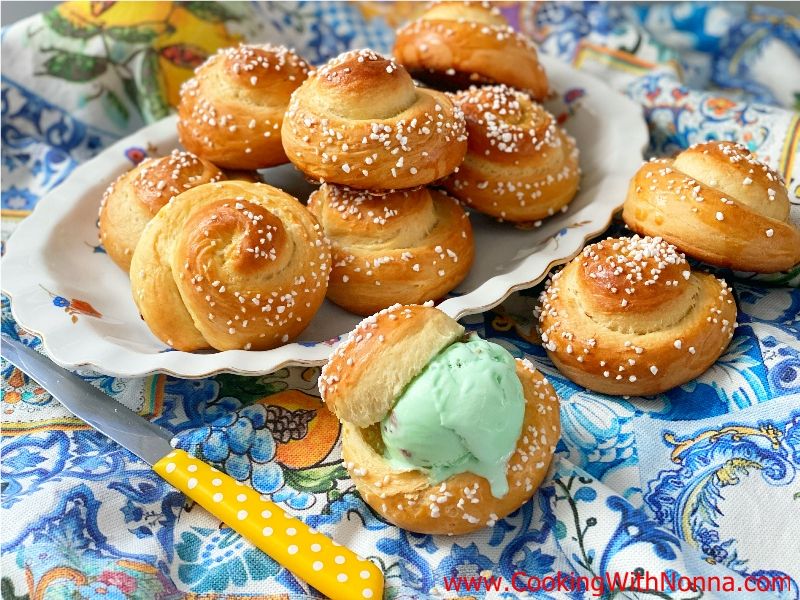 Ingredients
For 1 Batch(es)
For the Rolls:
2/3

cup

whole milk

one packet active dry yeast

3/4

cup

granulated sugar, divided

3 1/4

cups

all purpose or 00 flour, plus more for dusting

1

teaspoon

salt

2

large eggs, at room temperature

1/2

cup

whole milk ricotta

3

tablespoons

unsalted butter, at room temperature

2

packets Vanillina powder or teaspoons vanilla extract

olive oil for coating the bowl
Directions
Yield: 15 rolls

Get the ingredients you need for this recipe

HERE!

Get the Pearl Sugar

HERE!

Line a baking sheet with parchment paper. Set aside.

In a small sauce pan over low heat, warm the milk and butter until melted. Cool till the mixture is lukewarm. Pour into a small bowl and stir the yeast and 1 teaspoon of granulated sugar. Let stand until the mixture bubbles, about 10 minutes.

In a large bowl, combine the flour remaining granulated sugar, and salt. Whisk to combine. Make a well in the dry ingredients and slowly pour the milk mixture into it, gently stirring.

Add the eggs, ricotta and extract. Mix with your hands until a dough begins to come together. Generously flour a work surface and turn the dough out onto it. Knead the dough by hand until it is smooth and elastic. The dough should be soft and a little sticky. Shape the dough into a ball. Lightly coat a bowl with olive oil and place the dough ball in it.
Cover the bowl with plastic wrap and let rise in a warm place until doubled in size, about one hour and 30 minutes.

Generously flour a work surface and transfer the risen dough to it. Divide the dough into 15 pieces each weighing about 2.5 Oz or 1/4 cup of dough each.

Roll each piece into a 1 inch thick rope about 8 inches long. Roll the rope up into a pinwheel shape snd place it on the prepared baking sheet 3 inches apart.

In a small bowl, beat the egg yolk with the milk and brush each roll with the mixture. Sprinkle with Pearl sugar.

Cover the rolls with a clean kitchen towel and let rise for 15 minutes.

Pre-heat oven to 350F.

Bake for 20-25 minutes or until the rolls are golden brown.

*You can enjoy the rolls as they are, with jam or Nutella or with gelato!
Reviews
Saturday, 10 April 2021
does this recipe need 3 eggs? 2 eggs for dough and 1 egg yolk mixed with how much milk? (direction #...
See Full Review >>
- GmaMo