Duomo Cake
This traditional cake is made to represent all of the church domes in Italy. This pound cake, filled with light chocolate mousse and almond whipped cream, is decadent and easy to make. It is sure to be a conversation piece at any gathering!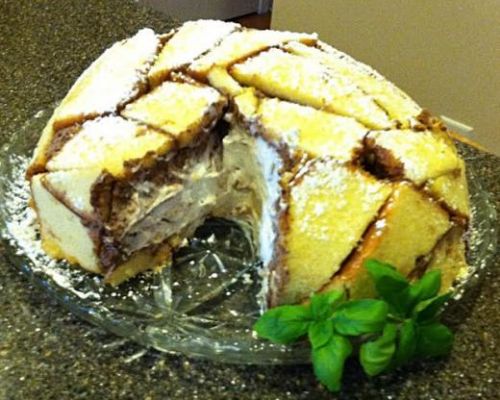 Ingredients
For 8 Person(s)
For the Cake:
12

ounces

loaf of pound cake

1/3

cup

Amaretto Disaronno

6

ounces

bittersweet chocolate chips

2

cups

cold heavy cream

1/4

cup

confectioners sugar

1/2

teaspoon

almond extract

1/2

cup

sliced almonds

cooking spray
Directions
Spray 1 1/2 quart bowl with nonstick spray, and line with plastic wrap

Cut pound cake cross-wise into 1/3 inch-thick slices. (cut each slice diagonally in half)

Line the bottom and sides of bowl with the cake triangles

Brush some of the amaretto over the cake pieces in the bowl.

Reserve the extra triangles.

Melt chocolate in a bowl in the microwave. Set aside to cool

Using an electric mixer, beat 1 cup of heavy cream in a bowl until it is thick and fluffy.

Fold whipped cream with the cooled chocolate.

Spread chocolate mousse over the cake in the bowl.

Cover and refrigerate, while making second filling.

Using the electric mixer, beat the remaining 1 cup of cream, confectioners sugar, and almond extract until peaks form.

Spoon the cream mixture into the center of the cake.

Arrange the remaining cake slices over the filling completely.

Cover with plastic wrap and refrigerate 3 hours.

After set, invert the cake onto a platter, remover the bow

l

and plastic wrap, dust with remaining confectioners sugar.
Recipe Notes
You could also dust with cocoa powder.
Categories:
Dessert & Cookie Recipes
,
Intermediate Recipes
,
All Recipes
,
Christmas Recipes
,
Thanksgiving Recipes
,
Easter Recipes
,
Valentine's Day Recipes
,
Super Bowl Recipes
,
Mother's Day Recipes
,
Father's Day Recipes
,
Memorial Day Recipes
,
4th July Recipes
,
Labor Day Recipes
,
Recipe Contest Winners
,
Easter Cakes and Cookies
,
Valentine's Cake and Cookie Recipes
,
Cakes and Pies Recipes
,
Summer Dessert Recipes
,
Thanksgiving Dessert Recipes
,
Christmas Dessert Recipes
Reviews
Sunday, 17 April 2022
Great recipe everyone loved it. but.. I don't know if my bowl was too big, but I needed more pound ...
See Full Review >>
- brooklynq
Sunday, 17 April 2022
Great recipe everyone loved it. but.. I don't know if my bowl was too big, but I needed more pound ...
See Full Review >>
- brooklynq
Sunday, 17 April 2022
Great recipe everyone loved it. but.. I don't know if my bowl was too big, but I needed more pound ...
See Full Review >>
- brooklynq
Thursday, 14 December 2017
Although this may not be the best pic...this cake is a crowd pleaser.It is light and has a lot of fl...
See Full Review >>
- Napoliamore