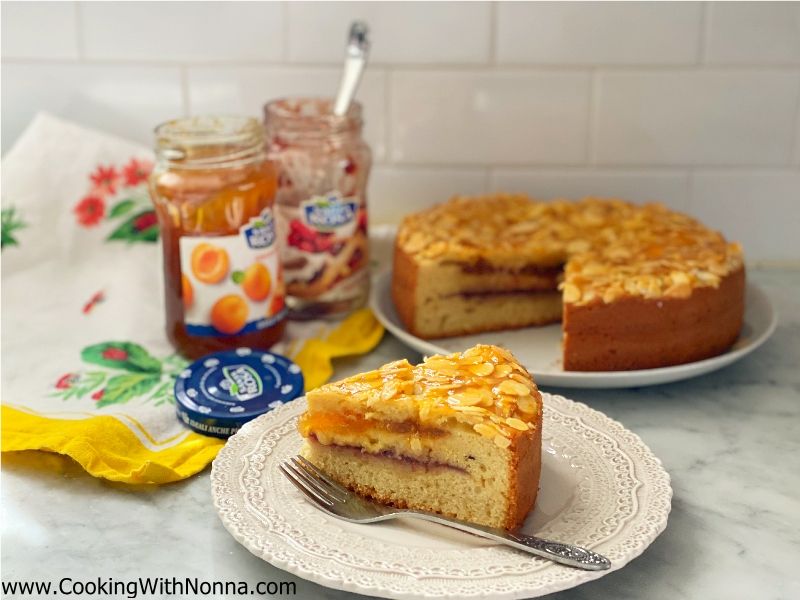 Ingredients
For 1 Batch(es)
For the Cake:
2

cups

00 or all purpose flour

1

tablespoon

baking powder

4

large eggs

2/3

cup

granulated sugar

2

packets Vanillina powder OR 1 teaspoon vanilla extract

1/2

cup

whole milk

1/2

cup

olive oil

1/2

amarena or cherry jam

1/2

apricot or peach jam
(Optional) Topping:
1

cup

sliced almonds

2

tablespoons

jam

* alternatively you can just dust the top with confectioners sugar
Directions
Get the ingredients needed for this recipe

HERE!

Preheat your oven to 350 degrees. Spray a 9 inch spring form pan with baking spray.

In a mixing bowl, whisk together the flour and baking powder. Set aside.

In another mixing bowl, combine the eggs, sugar and vanilla. Mix with an electric mixer until fluffy, about 5 minutes.

Add in the dry ingredients Little by little. Mix until just absorbed.

Pour 1 1/4 cups of batter into the pan. Bake for 15-18 minutes, or until firm.

Spread the cherry jam over the cake, leaving a 1 1/2 inch border all around. Cover the jam with another 1 1/4 cups of batter. Bake for 18-20 minutes. Feel the center to make sure it's firm.

Spread the apricot or peach jam over the baked cake leaving a 1 1/2 inch border. Cover with the remaining batter. Top with the sliced almonds if using. Bake for 20 minutes.

Optional:

Warm the 2 tablespoons of jam over low heat and brush the top of the cake.
Cool completely before cutting and serving.
Reviews
Thursday, 08 April 2021
How much of jam to use?
- Redquest1
Thursday, 08 April 2021
approximately what amount is half of the jam? Sometimes the jars are different sizes. Thank you.
- kakingsbury